Let these No Bake Coconut, Cashew and Pineapple Energy Bites take you to the tropics! They are a tasty snack you can grab on the run, or enjoy at home. These bites will brighten your day.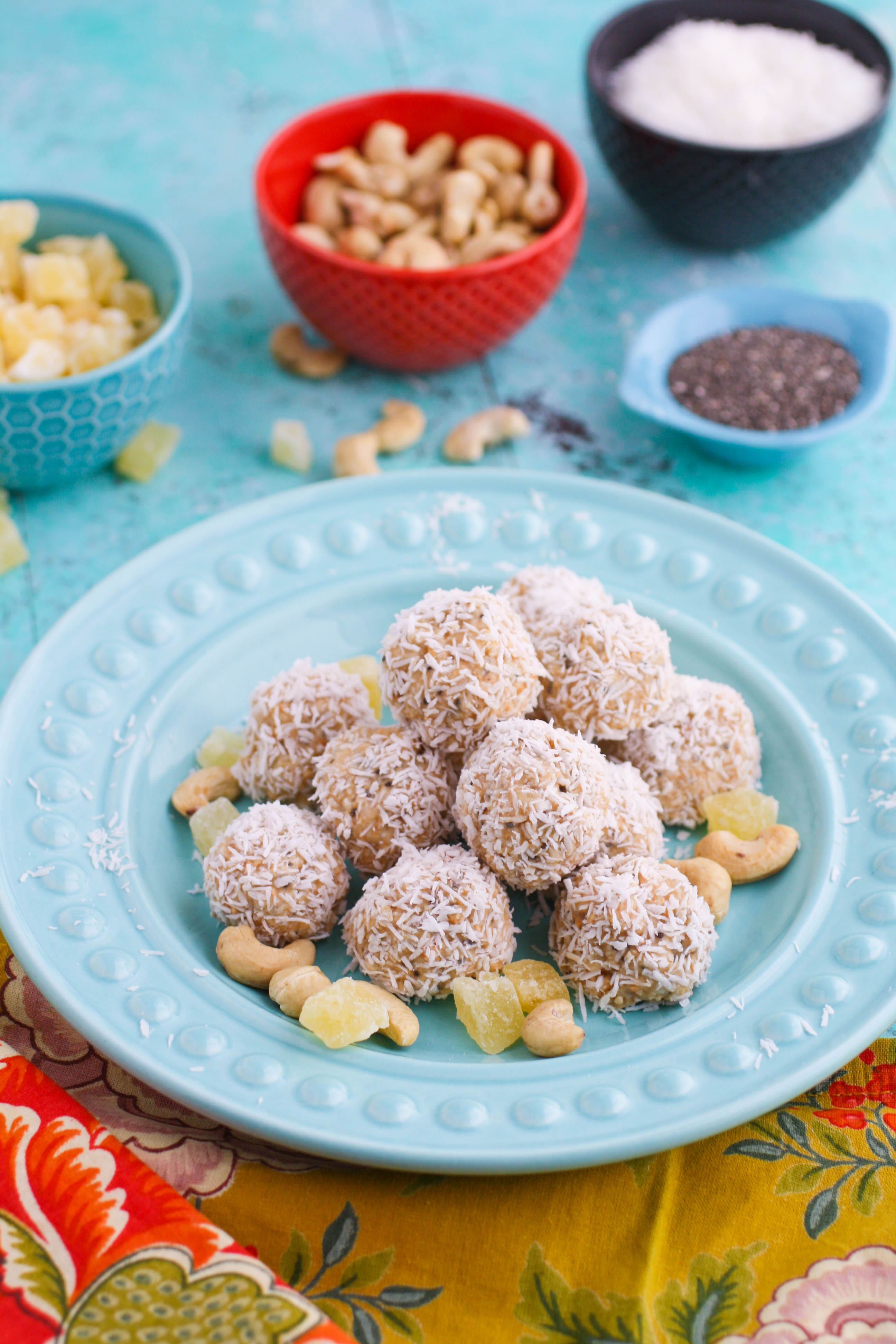 I've been trying to get my snacking in check, but sometimes it's hard. It's especially hard for me since I've been working from home for the past year+. These bites are helpful — they're satisfying and delicious, and filled with healthy ingredients.
I'm not an expert on nutrition, but after a little digging, I found that the ingredients in these bites are filled with fiber, vitamins and minerals, protein, antioxidants, calcium, protein, and omega-3 fatty acids (hearty-healthy fats).
The chia seeds themselves pack a punch with the good-for-you stuff. I recommend you do some research yourself to see what you think, then decide what's right for your diet.
Are you crazy for cashews? Try a few of my other recipes that include them:
Cashew and Banana Smoothies
Spicy Eggplant Stir-Fry with Cashews
Dark Chocolate Chip Cherry Cashew Bars
These little energy bites are great in the afternoon. That's exactly when I seem to slump a little, or go snack crazy on things that might not be quiiiiite so good for me.
These no bake bites are so easy to make, there's really no reason not to try them! Pineapple, coconut, and cashew make such a great combination of flavors. I used raw cashews and toasted them a bit.
After whirling the ingredients in a food processor for a minute or so, the final product can be just a bit wet. After rolling the bites in a bit of dried coconut, I refrigerated them to firm up. To store them, pop them in a container and keep them in the fridge.
Check out a few more of my recipes for tasty snack options:
No bake coconut, cashew, and pineapple energy bites
It's easy to imagine yourself on a tour of the tropics with the tasty flavors in these bites. Whether you take these bites on the go, pop one after a workout, or enjoy one mid-day as a treat, you'll love the flavors — especially if you're fed up with the winter weather!
Make a batch of these no bake coconut, cashew, and pineapple energy bites to keep your snacking in check.
Patricia Conte/Grab a Plate
Yields About 14-16 bites
No Bake Coconut, Cashew, and Pineapple Energy Bites
Ingredients
3/4 cup raw cashews, toasted
3/4 cup dried pineapple
1 cup shredded, unsweetened coconut, divided
3/4 tablespoon chia seeds
1/4 teaspoon salt
Instructions
Line a baking pan with waxed or parchment paper. Add 1/4 of the coconut to a small bowl and set aside.
Add the cashews, pineapple, remaining coconut, chia seeds, and salt to a food processor.
Blend a minute or so until it forms a dough.
Roll to shape the dough into 2-inch balls. Roll each ball in the 1/4 cup of reserved coconut.
Place on the baking pan and refrigerate for 30-60 minutes.
Store in a container with a lid in the refrigerator.
7.8.1.2
270
https://www.azgrabaplate.com/no-bake-coconut-cashew-pineapple-energy-bites/