Eggplant Muffuletta Sandwiches are perfect to make when you're hungry and looking for a sandwich to really grab onto! You'll definitely need two hands for this stacked and hearty vegetarian sandwich, and you might want to grab a few napkins while you're at it, too.
Even though I've never been to New Orleans where this sandwich was made famous, I can understand what all the fuss is about! Whether you make your version of the muffuletta sandwich in the traditional style, loaded with meat – capicola, salami, pepperoni, prosciutto, and the like – or you prefer a meatless option like this recipe for Eggplant Muffuletta Sandwiches, the one thing you can't leave out is the olive salad.
One bite of this sandwich and I was reminded of some of the sandwiches my dad and uncles ate for lunch. Landscapers work up quite an appetite, and for my dad, a PB & J wouldn't cut it halfway through the workday.
Instead, he would eat sandwiches made with thick slices of homemade bread, piled with a variety of cured meat, cheese, pickled peppers, olives, or just about any other type of vegetable. His sandwiches were hearty, delicious, and similar to a muffuletta sandwich.
This is anything but a dainty sandwich! It makes sense that this deli-style delight was made popular by Italian immigrant workers in New Orleans who needed a hearty meal. I made this version without the meat, and added lightly pan-fried eggplant slices for a vegetarian version.
These sandwiches are seriously stacked! One of the best things about these (slightly messy) sandwiches is the olive salad that frames the eggplant and cheese. It's made using two types of olives and hot-flavored giardiniera, among other goodies.
Giardiniera is a mix of chopped, pickled veggies like carrots, peppers, cauliflower, and celery, packed in seasoned oil. The thick sandwich rolls easily soak up the oil and tangy flavors of the salty olive salad.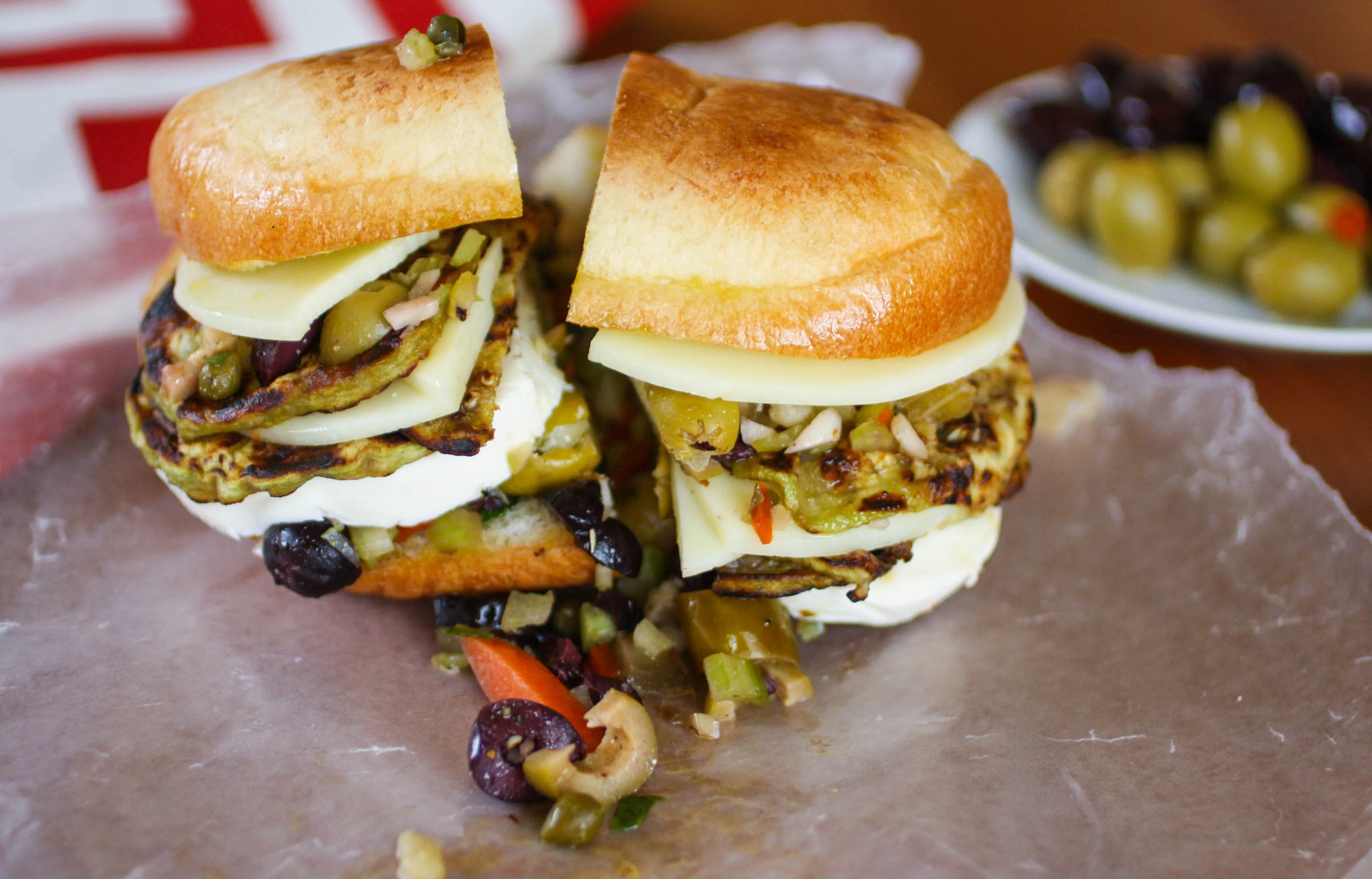 If you like giardiniera, you'll love my Spicy Giardiniera Pizza Bites. They're a fun spin on traditional pizza.
When you're hungry, grab a few napkins and go ahead and dig into these yummy Eggplant Muffuletta Sandwiches. These sandwiches are so satisfying!

Patricia Conte/Grab a Plate
Yields Serves 4
Eggplant Muffuletta Sandwiches
Ingredients
For the Olive Salad:

1/2 cup pitted Kalamata olives, chopped
1/2 cup green pimento-stuffed olives, chopped
1 cup prepared hot-flavored giardiniera (pickled Italian vegetables in oil), plus 1 tablespoon of the packing oil
2 celery stalks, diced
2 garlic cloves, minced
1 tablespoon capers, chopped
1 tablespoon fresh parsley, minced
1 cup olive oil
1/2 teaspoon ground black pepper

For the Sandwiches:

1 small eggplant, peeled and sliced into very thin rounds (approximately 6 slices per sandwich)
8 ounces fresh mozzarella cheese, sliced
8 ounces provolone cheese, sliced
4 round, large, Italian-style bread rolls
2 teaspoons vegetable oil
2-3 paper towels
Instructions
For the Olive Salad:

In a medium-sized bowl, combine all the ingredients for the olive salad. Cover and refrigerate it for an hour or more, so the flavors mix.

For the Sandwiches:

Lay a few paper towels over a baking sheet. Salt both sides of the eggplant slices and place them on the baking sheet. Allow the eggplant to sit for 30-45 minutes to drain off some of their liquid (this helps to eliminate any bitterness). Then, brush any remaining salt off the eggplant slices, and pat them dry with a paper towel.
In a large skillet over medium heat, add the vegetable oil. When hot, add the eggplant slices and make sure there is room between each slice (you may need to cook in a few batches). While the eggplant cooks, flip them occasionally so they don't burn. After about 5-7 minutes they should be finished cooking. Set them aside.
When ready to make your sandwiches, slice the bread rolls in half. Add 2-3 tablespoons of the olive salad to the bottom half of each roll.
On top of the olive salad add two ounces of fresh mozzarella cheese, then 2-3 slices of eggplant, two ounces of provolone, 2-3 more slices of eggplant, and finally, another 2 tablespoons of the olive salad.
Add the top half of the bread to the sandwich, slice in half and serve.
7.8.1.2
267
https://www.azgrabaplate.com/eggplant-muffuletta-sandwiches/
---
INSTRUCTIONS