Is there anyone out there that doesn't love pasta? I'm sure you'll love this recipe for Orzo & Olive Stuffed Portobello Mushrooms. It's hearty and filled with big flavor, made using a tiny type of pasta and Ragu's Thick & Hearty Traditional pasta sauce.
I grew up eating traditional Italian meals, and of course pasta was on the list. My mom would often make pasta with red sauce made from the tomatoes she grew in her garden. We had he wonderful sauce all year since she canned most of those garden-fresh tomatoes.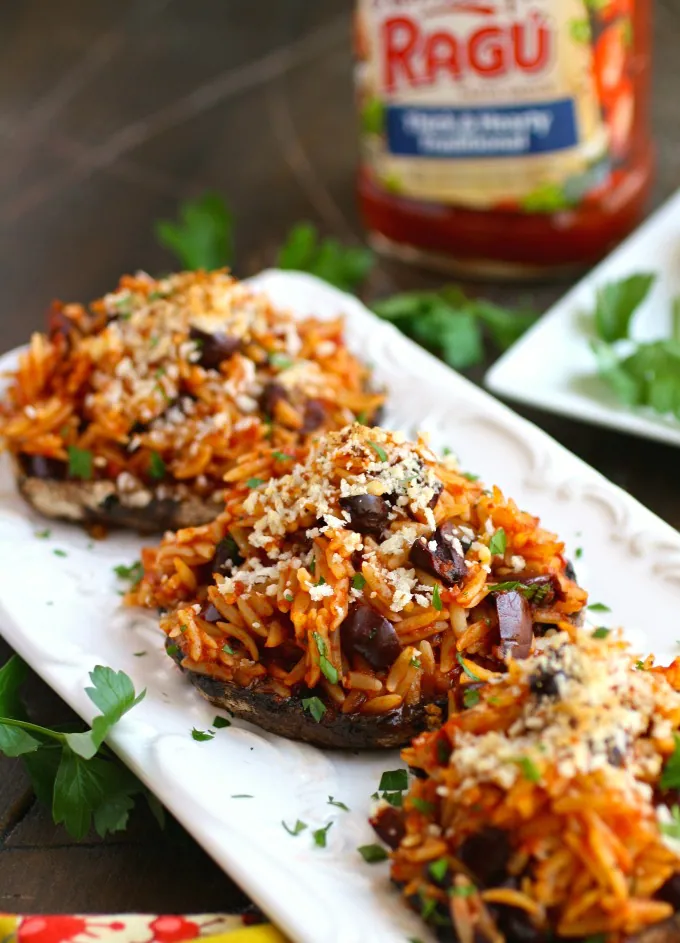 Tradition is something Ragu knows well, too. You'll see this in its new line of sauce called Ragu Homestyle sauce, which has a made-from-scratch flavor. Ragu uses a blend of 100% California-grown, vine-ripened tomatoes, onions, and fragrant herbs for its new super-thick sauces. And when I say thick, I mean thick!
Have you ever had orzo pasta? It's pretty tiny as far as pasta goes, and it's shaped like a grain of rice. My mom mostly used orzo in soups or plain with butter and an egg mixed in (like you'd add to fried rice). I wanted to use it as the tasty filling in my recipe for Orzo & Olive Stuffed Portobello Mushrooms.
This is a simple recipe, but the flavors are fabulous! I mixed the cooked orzo with some Ragu Thick & Hearty Traditional sauce (along with Traditional, the new line also includes Meat, Roasted Garlic, Four Cheese, and Mushroom flavors – none of which contain artificial colors, flavors, or high-fructose corn syrup). I tossed in some Italian black olives and parsley, and mounded the mixture into big beefy portobello mushrooms.
Next time you're at the store, keep an eye out for Ragu Homestyle sauce. I really love it, and this is coming from a gal who has eaten homemade sauce made with garden-fresh ingredients her whole life!
Whether you're looking for a Meatless Monday meal, a pasta dish that's a little out of the ordinary, or something that doesn't take a lot of time to get on the table, Orzo & Olive Stuffed Portobello Mushrooms is the perfect choice.
Orzo & Olive Stuffed Portobello Mushrooms
You'll love this meatless pasta-based dish that's hearty and full of flavor!
Ingredients
4 large portobello mushrooms, stems removed and gills cleaned
2 tablespoons olive oil
1/2 teaspoon salt
1/2 teaspoon ground black pepper
4 ounces uncooked orzo pasta
2/3 cup Ragu Thick & Hearty Traditional Pasta Sauce
1/4 cup Italian black olives, pitted and rough chopped
1-1/2 tablespoons chopped fresh parsley, plus extra for garnish
2 tablespoons breadcrumbs
1 tablespoon grated Parmesan cheese
Instructions
Preheat the oven to 375 degrees F. Add a sheet of parchment paper to a baking sheet and set aside.
Lightly score the insides of the mushroom caps in two directions. Use a spoon to carefully scoop out a bit of the mushroom flesh. Save for use with another recipe.
Lightly brush both sides of each mushroom with the olive oil, then season with the salt and pepper.
Place on the baking sheet and cook for about 10 minutes.
While the mushrooms are in the oven, cook the orzo according to the package directions (I cooked the orzo so it was al dente).
Drain the orzo, then mix with 6-7 tablespoons of the Ragu sauce. Stir in the olives and parsley.
Remove the mushrooms from the oven. In a small bowl, combine the breadcrumbs and Parmesan cheese.
Evenly divide the remaining Ragu sauce and spoon into the bottom of each mushroom.
Use a spoon to scoop and mound the orzo mixture into each mushroom. Sprinkle each with the breadcrumb mixture. Place the mushrooms back in the oven under the broiler for several minutes, or until the tops are golden.
Remove from the oven, garnish with the remaining parsley and serve warm.
7.8.1.2
69
https://www.azgrabaplate.com/orzo-olive-stuffed-portobello-mushrooms/
Nutrition