16 May
When it's time to gather with friends for just about any occasion, Savory Olive and Goat Cheese Palmiers are one of the easiest-to-make appetizers ever. Perfect for when you need extra time to tend to other things!
What's in a name?
This treat goes by many names, but palmier – French for palm tree – might be the most common. You might also know these as elephant ears, and maybe had a sweet version, coated in sugar and cinnamon or made with fruit spread or honey. Both the sweet and savory versions are delicious and easy to make.
Basically, easy
I haven't talked much about how much I love the pastry class I'm taking (when I enrolled in the class I also signed up with a trainer at the gym – pretty smart). In class we've been learning the essentials, and puff pastry was one of our most recent recipes. Surprisingly, like most of the other basics, it was easier to make than I imagined. We made the "quick puff pastry" version, which only takes about an hour. Don't be alarmed: the recipe in this post calls for a faster, easier pastry option! 
The classic version takes a lot of time to make because large portions of butter are placed on the dough, then the dough is folded and rolled many times to ensure the butter makes its way to all the layers of the dough. The quick version incorporates the butter into the mixture and only takes four folds with rolling in between. One of these days I'll share the recipe for the quick version, but for now, I'll use the quickest version ever – straight from the freezer aisle of the grocery store.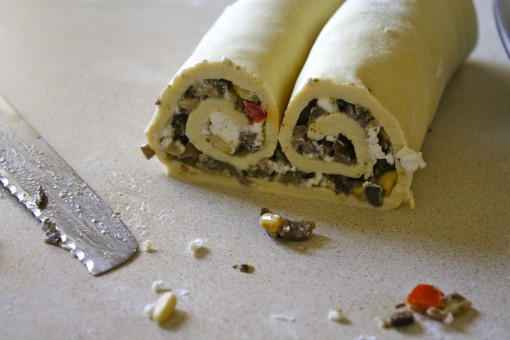 Speedy and savory
For a super-quick option of puff pastry, the grocery store version works really well. To make this recipe for Savory Olive and Goat Cheese Palmiers quick and easy, I used prepared puff pastry and olive tapenade. Actually, to call it a recipe doesn't seem right – it's more of a set of instructions for a tasty, flaky and easy-to-make appetizer.
Recipe for Savory Olive and Goat Cheese Plamiers
Yields 16
Ingredients
1 package (2 sheets) prepared puff pastry dough, thawed
1/2 cup crumbled chèvre cheese
1/4 cup prepared olive tapenade (or another type, like artichoke tapenade)
1/4 cup toasted pine nuts
Coarse salt, to taste
Directions
Allow the puff pastry dough to thaw, according to the package directions.
Lightly flour a flat work surface.
Place one sheet of the dough on top of the other on the floured surface, and gently roll it out to a 9x12-inch shape that is about 1/4-inch thick. (You could use each sheet of dough individually, if you prefer.)
Spread the olive tapenade over the dough, followed by the crumbled chèvre cheese. Top with the toasted pine nuts.
Start by rolling the short ends of the dough toward each other until the meet in the middle.
Tightly wrap the rolled dough in plastic wrap and refrigerate for about 30 minutes.
Preheat your oven to 425 degrees F.
Line a baking sheet with parchment or a silicone baking mat.
Unwrap the dough and use a serrated knife to slice the rolled dough into 1/4-inch slices, and put them on the baking sheet about 2 inches apart.
Sprinkle the tops with the coarse salt and bake for 12-14 minutes, or until they are just lightly golden.
Serve warm.
Yields 16