Pork al Pastor Bowls are a flavorful, Mexican-inspired dish that's easy to make. Try a traditional-style meal served in a non-traditional way: toss together a few ingredients and you'll soon be set for a scrumptious meal.
It's not what's on the outside, but what's inside that counts. That's how I feel sometimes when it comes to my favorite Mexican dishes like these lower-carb (no taco shells present in this dish) pork al pastor bowls.
Don't get me wrong! I'm all about to-die-for tacos and burritos that are the bomb, but sometimes, I just want to get to the goodies on the inside without any obstacles.
That was the inspiration for these pork al pastor bowls: I wanted to get to the good stuff as soon as possible!
Pork al Pastor Bowls
It's not difficult to come by good Mexican food here in Phoenix, and I've had my fair share of traditional tacos al pastor around town, but I have to credit my husband with this recipe idea.
If you like pork with great flavor, check out my recipe for Grilled Pork with Korean-Style BBQ Sauce! Grab a few napkins, too! Another is my Caramel Apple Pork Medallions — easy to make and so good!
Over the weekend, as I was crying, "Let's get tacos!" he was thinking, "Let's go to the grocery store to pick up a pork roast." We did get tacos, and we got a pork roast, too.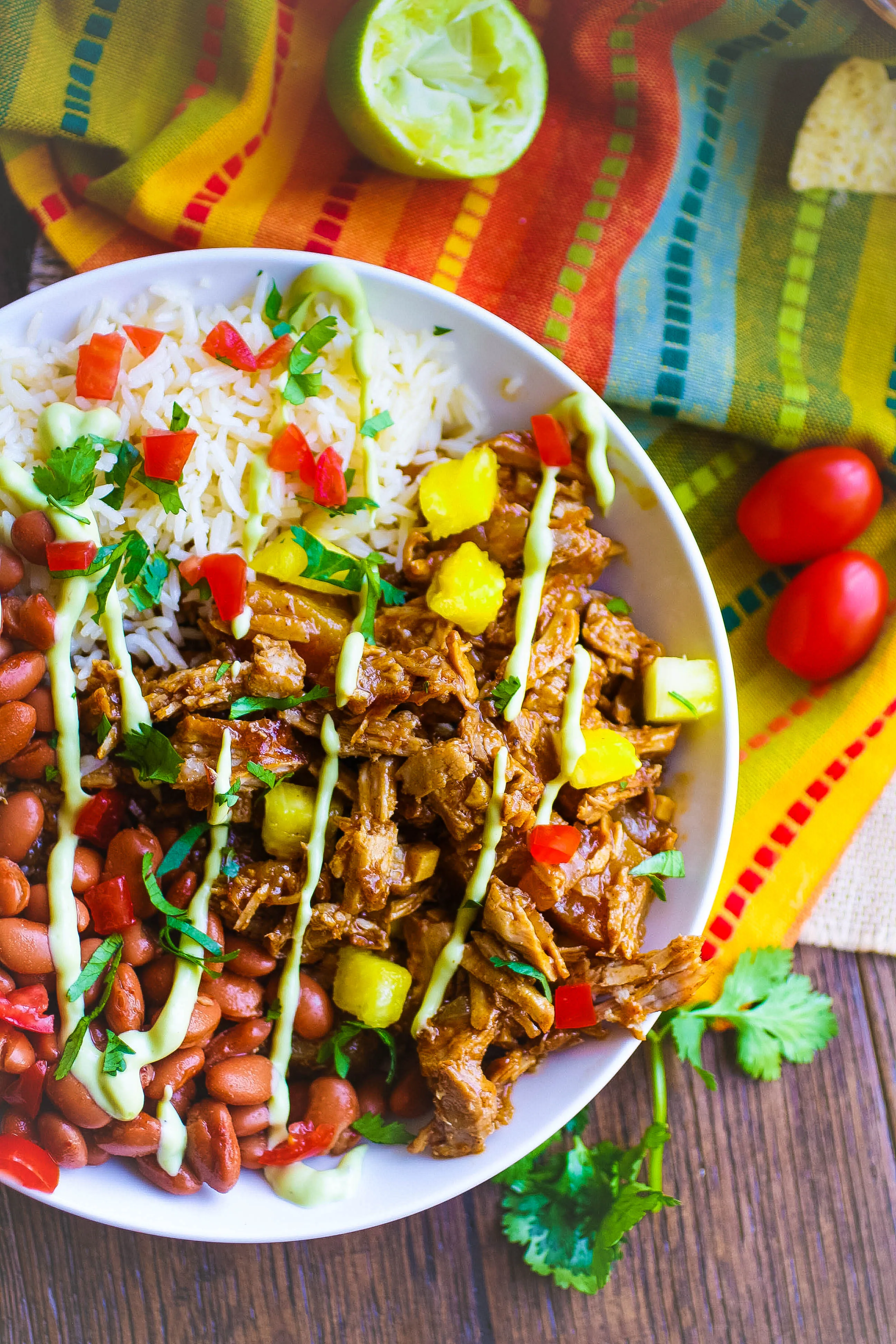 I love making dishes like this on a Sunday afternoon when I have a little more time to lounge. After coating the pork roast in seasonings and searing it, just pop it into the oven for a couple of hours, and there's not much left to do but enjoy.
It's said that al pastor is a dish said that was brought to Mexico by Lebanese immigrants. The pork is typically cooked on a vertical rotisserie, similar to how shawarma or gyro meat is cooked, but we simply popped ours in the oven, and easily shredded it when it was finished cooking. Pineapple is typically present in al pastor, too, and it adds a sweet compliment to the spices we used.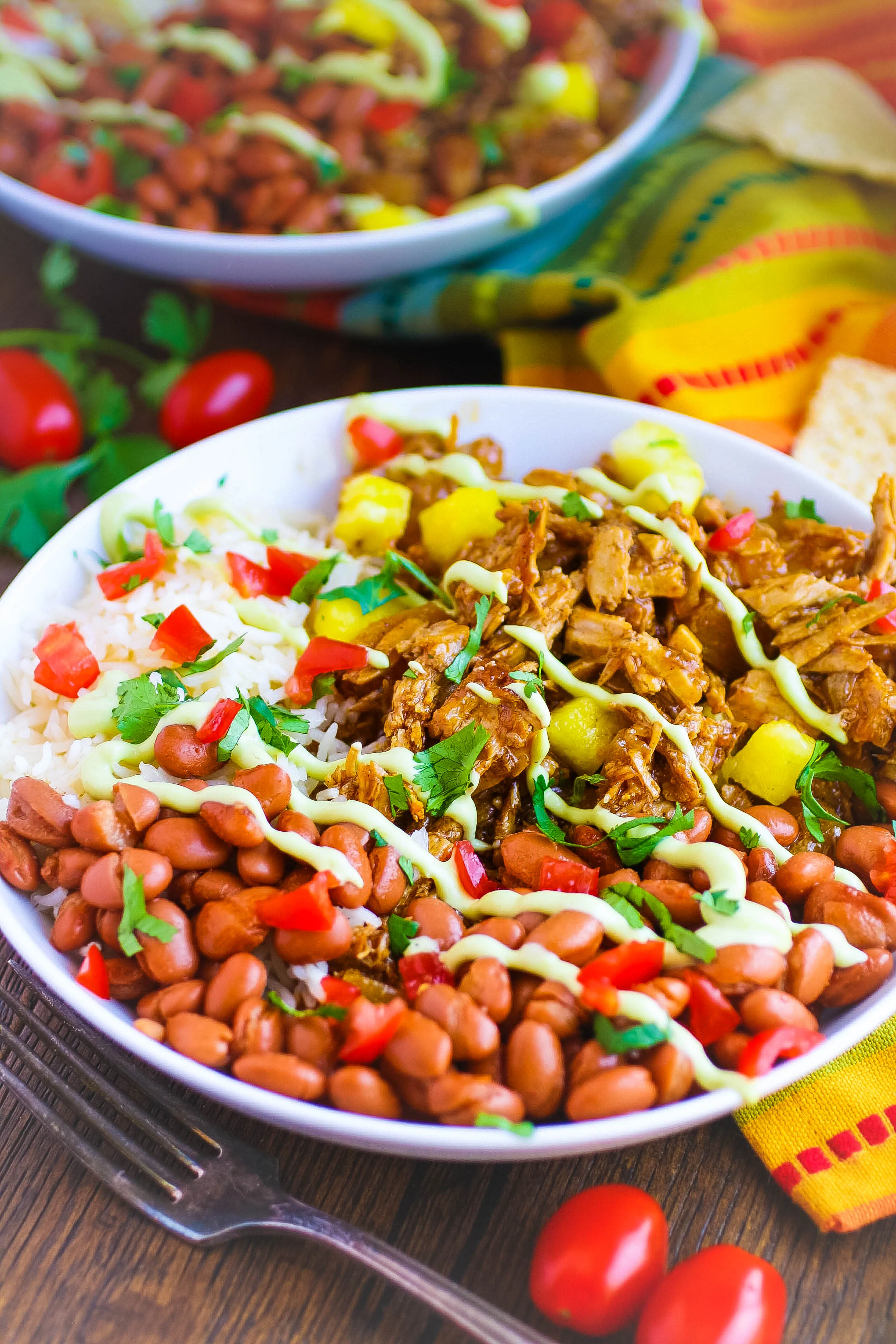 I made an avocado crema to drizzle over the top of these tasty bowls (YUM!), and what could be better? Serve these bowls with some chips and spicy salsa, and you're set for a fabulous meal!
You won't miss the tacos shells when you serve pork al pastor bowls. In fact, I think you'll be thrilled to get to the good stuff more quickly!
Patricia Conte/Grab a Plate
Yields Serves 4-6
Pork al Pastor Bowls
Ingredients
For the avocado crema:

1 large avocado
1/2 cup sour cream or plain Greek yogurt
Juice from 1 lime
1/4 teaspoon salt

For the pork:

1 (2-pound) pork roast
1 tablespoon chili powder
1 teaspoon chipotle powder
1 teaspoon ground cumin
1/2 teaspoon salt
1/4 teaspoon ground black pepper
3 tablespoons vegetable oil, divided
5 tablespoons white onion, diced
3 garlic cloves, minced
1 (20-ounce) can pineapple chunks with juice, separated (use 14 ounces of the pineapple and all the juice, reserving the remaining fruit for another dish)
1/2 cup orange juice
1/2 cup vinegar
1-1/2 cups cooked white rice
1 cup red or black beans
For garnish: diced tomato and cilantro leaves
Instructions
For the avocado crema:

Combine all the ingredients in a food processor and blend until smooth.
Refrigerate until ready to serve.

For the pork:

Preheat the oven to 350 degrees F.
Add the chili powder, chipotle powder, cumin, salt, and black pepper to a small bowl. Mix to combine.
Pat the seasoning mixture onto the pork so it is coated all over and set aside.
Add the pineapple juice, orange juice, and vinegar to a bowl and set aside.
Add 2 tablespoons vegetable oil to a Dutch oven over medium heat. When hot, add the pork roast. Sear it on all sides (about 3 minutes per side). Transfer the pork to a platter and set aside.
Add the remaining 1 tablespoon of oil to the Dutch oven over medium heat. When hot, add the onions and cook for 3-4 minutes or until they begin to soften. Add the garlic and cook for about 90 seconds.
Put the pork back into the Dutch oven with the onion and garlic. Add the pineapple chunks and the liquid mixture. Cover with a lid and transfer the pan to the oven.
Cook for 2 hours or until the pork is fully cooked. Remove from the oven, and transfer the pork to a clean platter.
Use two forks to shred the pork.
Place the Dutch oven with the juices over medium-high heat. Cook until the mixture reduces by about 1/4. Remove from the heat.
Transfer the shredded pork back to the Dutch oven and toss to combine.
Serve with white rice and beans, and garnish with diced tomatoes, cilantro, and the avocado crema.
7.8.1.2
155
https://www.azgrabaplate.com/pork-al-pastor-bowls/