Oktoberfest Sheet Pan Brats with Roasted Vegetables recipe offers great fall flavors, easy prep, and super-easy clean up. Who's interested in a low-fuss, fall-inspired meal like this? I know I am!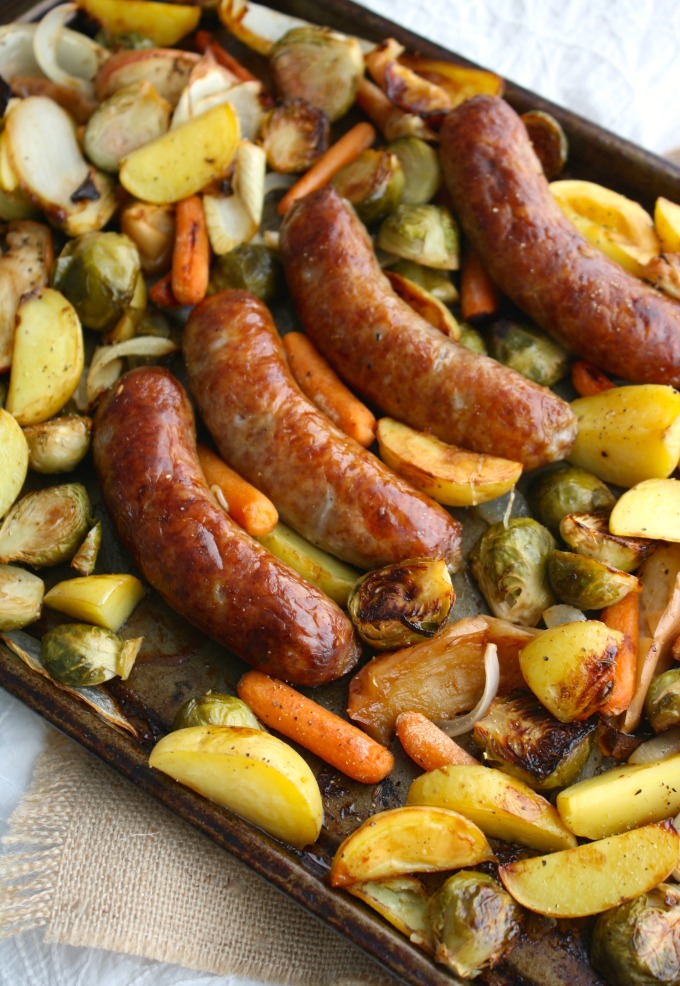 It's that time of year: friends toasting and clanging beer steins and all sorts of fall foods on the menu. Oktoberfest! Okay, so maybe Oktoberfest isn't celebrated as much as one might like, but it's a fun excuse to enjoy the flavors of the season. I originally posted this recipe in 2016, and it's been a huge favorite with readers.
For another flavorful sheet pan meal, check out my recipe for Sheet Pan Blueberry-Balsamic Glazed Salmon.
I have to credit my sister for this recipe idea for Oktoberfest Sheet Pan Brats with Roasted Vegetables. We're both getting into the season, although both of us live in fairly warm climates on either side of the country. That doesn't stop us from being interested in all things fall. In fact, I think it makes us want them even more! She's been loving sheet pan meals and suggested this option to me.
When it comes to mealtime, who isn't interested in easy prep and easy cleanup? I'd say just about all of us, right? I'm not sure how a sheet pan meal could get any better. It's basically popped into the oven, tossed a little, and served. Clean up involves tossing out the foil and a quick wash of the pan.
Another sheet pan favorite of mine is this recipe for Sheet Pan Spicy Orange Shrimp and Vegetables. It's definitely an easy-to-make, delicious meal.
Better than that, this meal is delicious and perfect for any sort of seasonal fun. If you haven't had roasted Brussels sprouts, I highly recommend them (try my recipe for Roasted Brussels Sprouts with Chipotle-Bacon Jam) — so good.
Roasting pretty much any vegetable adds sweetness and fabulous flavor to them. If you like big flavor and low fuss, roast some veggies and incorporate them into your dinner. Oktoberfest Sheet Pan Brats with Roasted Vegetables includes potatoes, carrots, Brussels spouts, onion, and apples, too. It's a hearty meal and so easy to make.
This sheet pan meal is one that will likely turn into a fall favorite! Try it out for yourself!
Oktoberfest Sheet Pan Brats with Roasted Vegetables
This is an easy-to-make, fall-inspired meal that's big on flavor, but not on prep or clean up!
4.9 based on 25 review(s)
Ingredients
4 Bratwurst sausages
1 (12-ounch) bottle dark lager beer
2 garlic cloves, crushed
1 white onion, cut into large pieces
2-1/2 cups Brussels sprouts, cut in half (outer leaves removed, as needed, and stem trimmed)
1/2 pound small white potatoes (Dutch Yellow), washed and quartered
1-1/2 cups carrots, cut into rounds (if using baby carrots, cut them in half, horizontally)
2 apples, cut into quarters
1/4 cup apple cider vinegar
3 tablespoons mustard
2 tablespoons brown sugar
1/2 teaspoon caraway seeds
Salt and black pepper to season
Instructions
Pierce the sausages with a sharp knife. Add the beer to a saucepan over medium-high heat and add the sausages and garlic. You may need to add some water to the pan (just enough to cover the sausages).
Bring to a boil, and reduce the heat to medium-low for about 5 minutes. Drain and set aside. Line a baking sheet with foil and set aside.
Preheat the oven to 425 degrees F.
In a small bowl, combine the apple cider vinegar, mustard, and brown sugar. Mix to combine and stir until the brown sugar dissolves.
Add the vegetables and apples to a large bowl. Pour the mustard mixture over the vegetables and apples, and toss to coat.
Transfer the vegetables to the baking sheet. Top with the brats. Season with the caraway seeds and salt and black pepper.
Cook for 45-50 minutes, tossing once halfway through the cooking time (and flipping the brats), or until the vegetables are browned and tender.
Remove and serve warm.
7.8.1.2
82
https://www.azgrabaplate.com/oktoberfest-sheet-pan-brats-roasted-vegetables/
Save