This dish is comfort food, for sure. I served Nashville-style hot chicken with creamy mashed potatoes and sautéed kale for an all-around, delicious meal. Chicken never tasted so good!
This is where you might want to roll your eyes, but I swear, this dish makes me shout, "Winner, winner! Chicken dinner!" Whoever came up with that saying must have had Nashville-style hot chicken, for sure.
Once again, I have to admit that this is my husband's recipe. He's a really good cook, and usually makes dishes that I don't. His family has Southern roots, and he has several dishes in his repertoire that I love.
I've been inspired to create a few Southern-style recipes of my own that readers have loved, like Individual Cheesy Shrimp & Grits (one of my favorites, too) and another that's perfect on crackers or bread — Pimento Cheese Spread — and for using as a topping for burgers. Really! I actually had it served like this in a restaurant in Charleston, S.C, and boy was it amazing.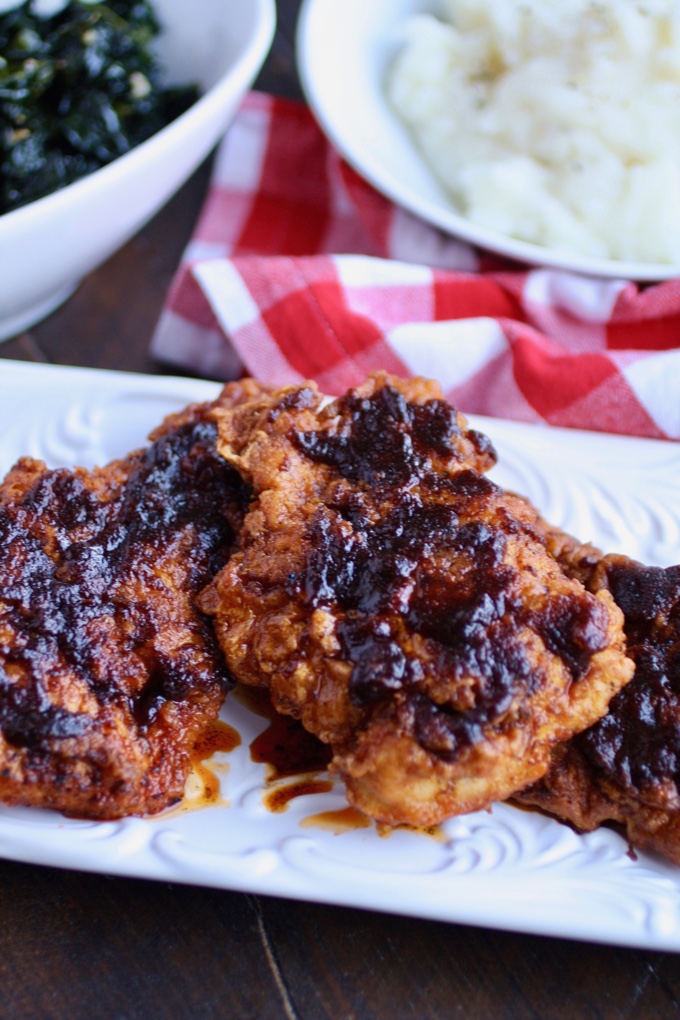 Have you tried Nashville hot chicken before? It's a specialty from — you guessed it — Nashville, Tennessee, that's been around for ages. Like every recipe, this one has its own unique spin.
While it might not be exactly like your aunt or cousin would make it, it is delicious and a family favorite in my house. We don't make it all the time because, well, fried chicken, but we love it when we have it.
You'll find this version of Nashville-style hot chicken with a bit of sweet (hellooooo brown sugar) and a bit of spice to go along with its crispy coating (which is perfect to help keep the chicken tender and juicy).
I'm eager to try different versions of this dish when I run across them, and it's becoming more and more popular at restaurants around the country, including fast-food spots.
If you're a fan of the sweet-and-spicy combo with chicken and love to toss it on the grill, you'll love Grilled Chicken with Cherry-Chili Sauce. It's so easy to make, and perfect for barbecues and get togethers. We eat this often during the grilling season.
I don't know about you, but when I eat Nashville-style hot chicken, I like to think that I'm enjoying a bit of culinary Americana, and boy is it a winner! I hope you try this recipe soon, and enjoy.
Nashville-Style Hot Chicken
This is a chicken-dinner winner, for sure! It's got it all: sweet, spicy, crispy and juicy!
Ingredients
For the chicken

4 (6-ounce) boneless, skinless chicken breasts, sliced in half lengthwise
3/4 teaspoon salt, divided
1/2 teaspoon ground black pepper, divided
3/4 teaspoon chili powder, divided
3/4 cup flour
1 egg, beaten
2-4 dashes hot sauce
1/2 cup vegetable oil

For the sauce

2 tablespoons brown sugar
1 tablespoon chili powder
4 dashes hot sauce
3 tablespoons of the cooking oil
Instructions
For the chicken

Add the flour, 1/2 teaspoon salt, 1/4 teaspoon black pepper, and 1/2 teaspoon chili powder to a shallow bowl. Whisk to combine and set aside.
Add the beaten egg and hot sauce to another shallow bowl. Mix to combine. Set aside.
Season the chicken with the 1/4 teaspoon salt, 1/4 teaspoon black pepper, and 1/4 teaspoon chili powder.
Dredge each chicken breast in the flour, coating both sides, then in the egg mixture (allow the excess to drip off into the bowl), and again in the flour. Set aside on a platter.
Add the oil to a skillet over medium-high heat. When hot, add the chicken and cook 4-5 minutes, flip and cook for another 4-5 minutes until done. The internal temperature of the chicken should be 165 degrees F. as measured by a meat thermometer inserted into the thickest part. Set aside the cooking oil.
Set aside the chicken and cover it to keep it warm.

For the sauce

Immediately mix together the brown sugar, 1 tablespoon chili powder, 4 dashes hot sauce, and the 3 tablespoons cooking oil. Whisk to combine and pour over the warm chicken.
Serve immediately.
7.8.1.2
129
https://www.azgrabaplate.com/nashville-style-hot-chicken/
Nutrition
Save