Have you ever had "dessert hummus," or a sweet hummus? If you haven't, you should definitely give it a try. It's not as strange as it sounds. In fact, it's really tasty, and what a healthy treat it makes! I hope you'll give my recipe for Honey-Mango Dessert Hummus a try.
I was at an event last year where "dessert hummus" was served. I had never heard of a sweet hummus before, but it was really good. Several different flavors were passed around and I remember thinking that I had to try to make it myself.
Dessert hummus, or hummus that's sweet-not-savory, crossed my mind several times over the year, but it wasn't until recently that I did anything about it. Now we can celebrate with Honey-Mango Dessert Hummus!
This is perfect to serve as a healthy dessert, but it's not so sweet that you couldn't serve it as an afternoon snack. I baked up some pita chips and sliced up some apples to serve with my Honey-Mango Dessert Hummus. Perfect.
I live for garlic. Anything I can add it to, bam! There is it! I never thought I'd pass up the opportunity to toss in as many garlic cloves as possible when I make hummus. Until I made this dessert hummus.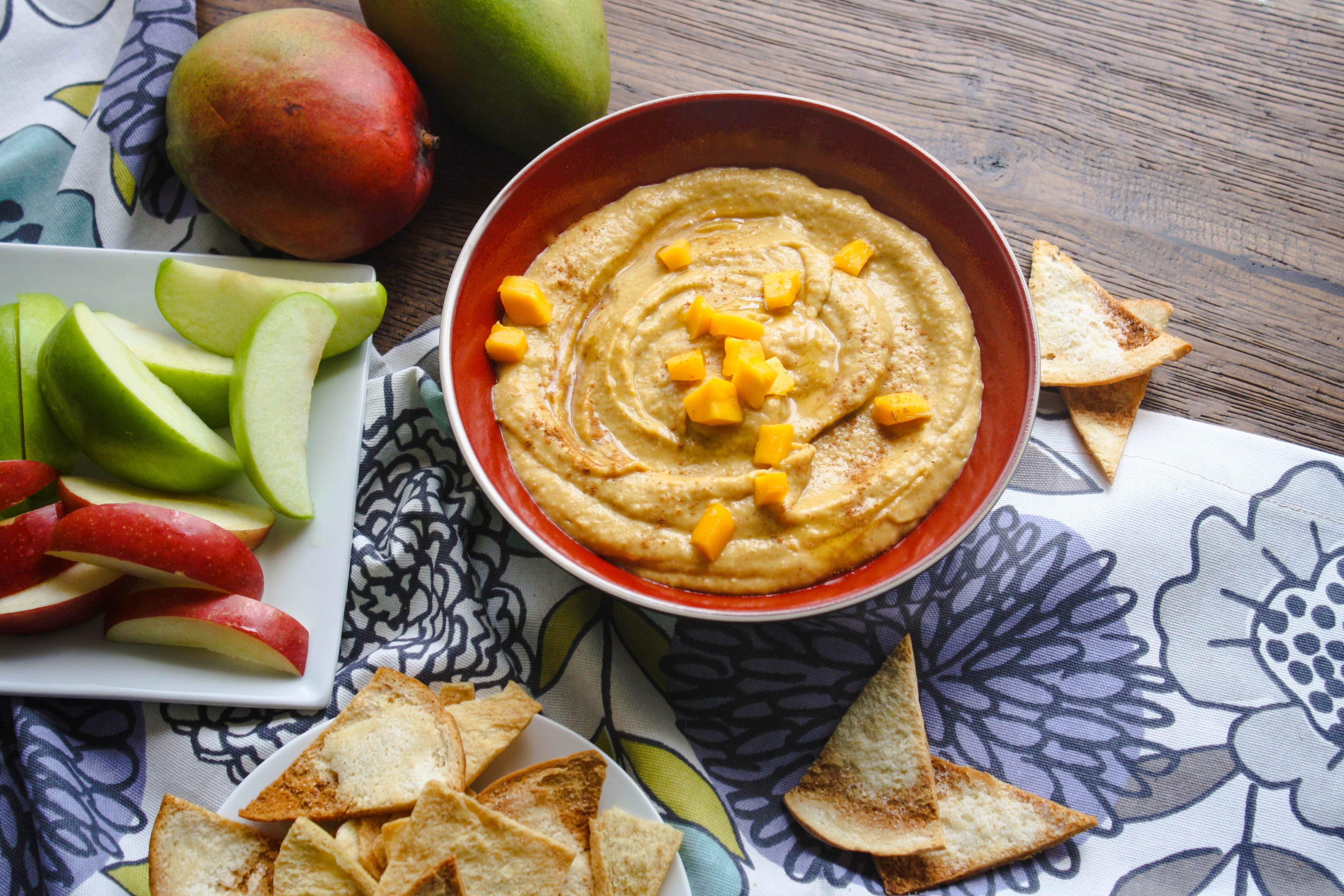 It's the one time I make hummus when I don't mind holding off on the garlic. I still use garbanzo beans, and toss in perfumy, ripe mangoes. Then, I swap the tahini for almond butter, the lemon juice for orange juice, the salt and pepper for cinnamon, and voilà — you have a fabulous, fruity treat.
Traditional, savory hummus is a staple in my house. Served up with olives and cheese and pita bread, it makes a great meal that is perfect when you don't want to cook. I make Spiced Edamame Hummus pretty often. Oddly enough, it doesn't include garbanzo beans, and neither does my recipe for Roasted Beet Hummus. Both are delicious and really colorful.
There are a bunch of snack-worthy chocolate options out there for sweet hummus (and you know I'll try one soon), but considering the warm weather and fresh fruit that's available, it would be a crime not to use it for a sweet treat.
I can't wait to play around a bit more and see what other dessert hummus options make the cut. For now, I'll indulge in Honey-Mango Dessert Hummus, and hope you'll give it a try, too.
Patricia Conte/Grab a Plate
Honey-Mango Dessert Hummus
Ingredients
1 cup garbanzo beans, drained and rinsed from a can
1-1/2 cups mango fruit, diced
3 tablespoons orange juice
2 tablespoons almond butter
2-3 tablespoons honey, to taste, plus extra to drizzle as garnish
1/4-1/2 teaspoon dried cinnamon, to taste
4 pitas, sliced in half width-wise, and cut into triangles
1/4 cup melted butter
1-2 tablespoons sugar
Instructions
Preheat the oven to 400 degrees F. Place the pita triangles, inner side facing up, on two baking sheets.
Lightly brush the tops with the melted butter. Sprinkle with the sugar.
Bake for 5-6 minutes or until they turn lightly golden. Remove from the oven and set aside.
Add the garbanzo beans, mango, almond butter, orange juice, 2 tablespoons honey, and 1/4 teaspoon cinnamon to a food processor. Blend until smooth. Taste and add more honey and cinnamon as you'd like. Blend again.
Transfer to a serving bowl and drizzle with a bit of honey and top with a few mango pieces.
Serve with the pita triangles and apple slices.
7.8.1.2
173
https://www.azgrabaplate.com/honey-mango-dessert-hummus/
Save