Barley Risotto with Mushrooms and Peas is a dish you'll love to sink your teeth into. I switched things up a bit and used barley instead of Arborio rice to make this risotto, and tossed in mushrooms and peas for extra flavor. This vegetarian dish is hearty and delightful!
I love risotto, don't you? All that creaminess, how could you not? Do you think it tastes extra-amazing because of all the stirring involved while it cooks?
I'm here to tell you that you won't have to work up a sweat to make Barley Risotto with Mushrooms and Peas. Not only is it tasty, creamy, and ideal to serve on a Meatless Monday, but there is little stirring involved with this risotto!
Barley Risotto with Mushrooms and Peas
I've replaced Arborio rice with barley, and the results are amazing. Who knew?
I'm a huge barley fan. I don't make it that often, but I really should! One of my favorite ways to enjoy it is in a traditional dish like Beef Barley and Mushroom Soup.
Barley has great texture and chewiness to it. It really helps make any dish more hearty. My Barley Salad in Radicchio Bowls with Champagne-Orange Vinaigrette is a perfect example (and how fun to be able to eat your bowl)!
This risotto would be a great dish to serve while the weather is cool, but we ate it on an 80-degree kind of day! Serve Barley Risotto with Mushrooms and Peas when you need a nice vegetarian option for dinner (it's lovely along with a fresh green salad) or on a Meatless Monday.
Not only is barley delicious, but if you didn't know, it's cholesterol-free, high in fiber, low in fat, and full of antioxidants and vitamins. What more is there to love about this?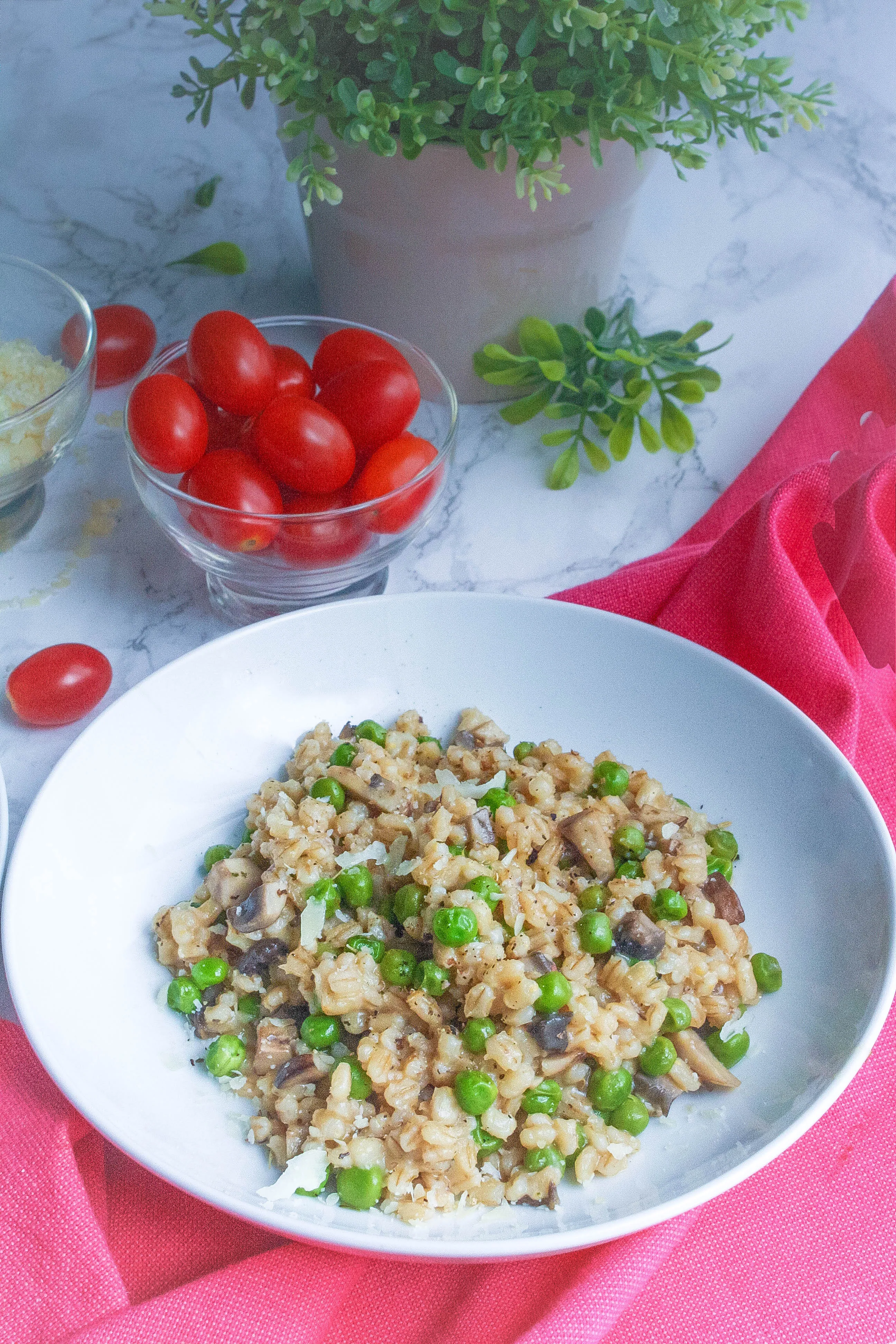 Wait until you discover the creaminess of Barley Risotto with Mushrooms and Peas! Be sure to give yourself a bit of time for prep with this dish, as the barley takes about 50 minutes to cook.
It's worth every minute you'll have to wait!
Patricia Conte/Grab a Plate
Yields Serves 4-6
Barley Risotto with Mushrooms and Peas
Ingredients
3 tablespoons butter, divided
1/4 cup white onion, diced
2 garlic cloves, minced
1 cup pearl barley
3-1/4 cup vegetable broth, divided
1/4 teaspoon dried thyme, plus extra to season
1/4 teaspoon ground black pepper, plus extra to season
1/8 teaspoon salt
4 ounces cremini mushrooms, diced large
1 cup frozen peas
1/4 cup white wine
5 tablespoons grated Parmesan cheese, plus extra to serve
Instructions
Add 2 tablespoons butter to a large skillet over medium heat. When melted, add the onion and cook for a few minutes until it begins to soften. Add the garlic and cook for about 30 seconds.
Add the barley, 3 cups of the vegetable broth, the thyme, black pepper, and salt to the skillet. Stir. Bring the mixture to a boil, cover, and reduce the heat to simmer for about 50 minutes or until the barley has softened and the liquid is absorbed. Stir occasionally as the barley cooks.
Note: the barley will still be firm and chewy when done. If most of the liquid is absorbed before the barley is done, add the remaining broth.
When the barley is finished cooking, add the remaining butter to a skillet over medium heat. Add the mushrooms to the skillet and cook for a few minutes, stirring. Add the peas and white wine, along with a bit more black pepper and dried thyme. Bring the mixture to a boil until some of the liquid evaporates, just for a few minutes.
Transfer the mushrooms and peas to the skillet with the barley. Turn off the heat and stir to combine.
Add the Parmesan to the skillet and stir.
Serve warm with extra Parmesan cheese on the side.
7.8.1.2
363
https://www.azgrabaplate.com/barley-risotto-with-mushrooms-and-peas/