Roasted Cornish Hens with Cherry-Bourbon Glaze are on the menu for the holidays at my house. The holidays are a special time, with favorite foods being part of the traditions I love. I can't wait to dig in!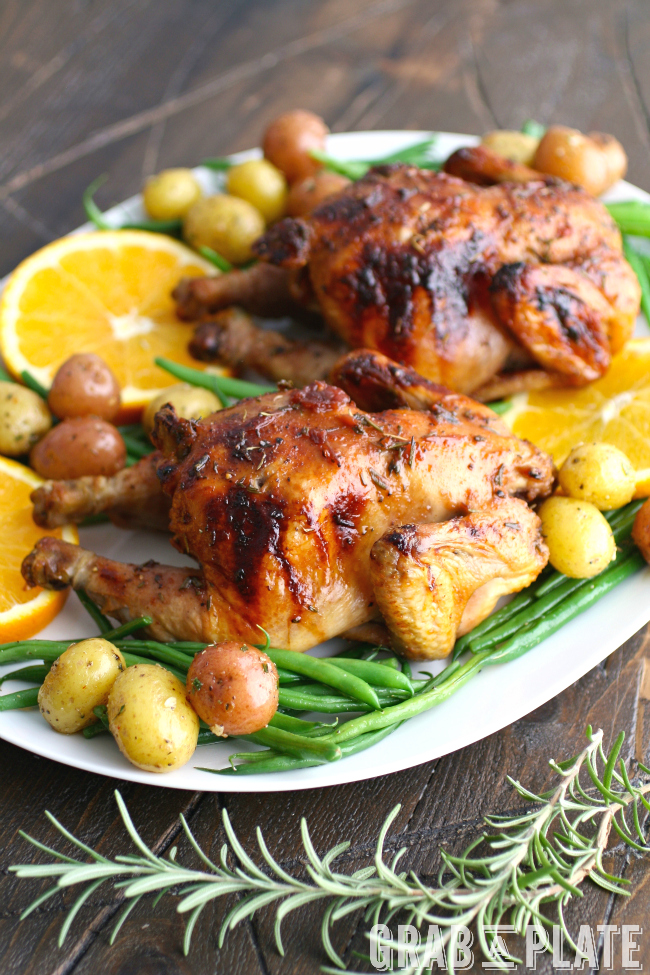 I have a big family, and for us, the holidays have always been about big gatherings that include friends, lots of favorite foods, and fun. Unfortunately, my family is now spread out across the country, and that makes it tough for all of us to be in one spot for the holidays. Can you relate?
Since there will be just two of us at my house this year, I'm picking up a Tyson® All Natural Premium Cornish Hen twin pack. It's perfect for a fabulous meal like Roasted Cornish Hens with Cherry-Bourbon Glaze. The portions are spot-on for a "just us" meal, and you'll definitely feel like you're in the midst of a celebration.
These Cornish hens make an elegant and delicious holiday meal. Trust me: I've done a test run — I just couldn't wait to try it. This dish is so good, I think I'm adding it to my "favorite traditions" list!
If you're the traditional type, try my recipe for Black-Eyed Peas, Spinach, and Creamy Tomato Hand Pies when the new year rolls around. Everyone loves traditions, especially when it involves food, right?
Here's a reminder for you to plan for dessert, too. You can't beat apple pie, and this recipe for Skillet Apple Pie with Salted Caramel Whipped Topping is amazing (and pretty)!
The glaze for these Cornish hens is a tangy and sweet combo of cherry preserves, cherry and orange juices, herbs, and a bit of bourbon, too. This recipe is easy to make, yet delivers the kind of meal you'd think a waiter in a fancy restaurant (or cartoon) should serve you on a silver domed platter!
I picked up a twin pack of these Cornish hens at Walmart. The price is reasonable, and you can easily double this recipe if you're feeding a few extra people. Even the packaging is a treat: each hen is individually bagged to protect it from freezer burn or frosting.
Roasted Cornish Hens with Cherry-Bourbon Glaze is just what I need to keep my holiday festive and flavorful. I hope you enjoy the holidays with your family and friends!
This recipe contains alcohol, but it is used for cooking purposes only. As such, the messaging below is intended for ages 21+ and is intended to be enjoyed responsibly, in moderation.
Roasted Cornish Hens with Cherry-Bourbon Glaze
This is the perfect "special occasion" meal! Roasted Cornish Hens with Cherry-Bourbon Glaze can feed a few, or a few more, and it will definitely make your meal special.
Ingredients
2 tablespoons butter
1 Tyson® All Natural Premium Cornish Hen twin pack
2/3 cup cherry juice
1/2 cup orange juice
5 tablespoons bourbon
2 tablespoons cherry preserves
1 teaspoon fresh rosemary leaves, chopped
1 teaspoon fresh thyme leaves, chopped
1/2 teaspoon salt, plus extra to season the Cornish hens
1/4 teaspoon ground black pepper, plus extra to season the Cornish hens
1/8 teaspoon ground cumin, plus extra to season the Cornish hens
Instructions
Preheat the oven to 350 degrees F. Remove the hens from the packaging and drain any excess liquid. Pat the hens dry with paper towels, and set them aside on a plate.
In a medium saucepan, combine the cherry juice, orange juice, cherry preserves, bourbon, herbs, salt, pepper, and cumin.
Bring the mixture to a boil, stirring, then reduce the heat to low. Allow the mixture to simmer for 5-8 minutes. It should thicken a bit. Remove it from the heat and set aside.
Truss the hens' legs so that they keep their shape while cooking. You'll need butcher's string for this. With the hens breast-side up, wrap the sting around the ends of the legs and gently tie a knot.
Melt the butter in a small bowl. Brush the hens all over with the melted butter. Season with salt, pepper, and cumin.
Place the hens on a wire rack in a roasting pan, breast-side up. Baste with a bit of the liquid mixture.
The hens should cook for approximately 75 minutes. Baste them with the liquid mixture every 10 minutes. For the last 10 minutes of cooking time, increase the oven temperature to 400 degrees F.
According to the package directions, the hens will be done when they reach an internal temperature of 180 degrees F. as measured by a meat thermometer.
Serve warm.
Notes
You'll want a few items at hand to prepare this meal, including a bit of Butcher's string, and a meat thermometer, too.
7.8.1.2
22
https://www.azgrabaplate.com/ad-roasted-cornish-hens-with-cherry-bourbon-glaze/
Nutrition