Lobster Ravioli Pasta Salad with Creamy Lemon Dressing is a summer dish you'll swoon over! You'll find the flavors of a lobster roll — and then some — in this pasta salad perfect for your summer fun.
I had the good fortune to partner with Three Bridges to bring you this amazing Lobster Ravioli Pasta Salad with Creamy Lemon Dressing, and I was so pleased with the quality of Three Bridges pasta.
Not all of us have a chance to head to the coast for a traditional lobster boil or to enjoy a mouth-watering lobster roll sandwich. Never fear! I found a way to bring those same flavors to a patio party or a backyard barbecue with my recipe for Lobster Ravioli Pasta Salad with Creamy Lemon Dressing.
Lobster Ravioli Pasta Salad with Creamy Lemon Dressing
The pasta in this pasta salad is fresh and convenient. I used Three Bridges Lobster Ravioli and Three Cheese Tortellini to create this non-traditional take on a favorite, coastal dish.
Three Bridges products can be found at grocery stores across the country in the refrigerated section along with other fresh and healthy products. Check to see where it's sold nearest you.
Lobster Ravioli Pasta Salad with Creamy Lemon Dressing is a fun side or main dish for any summer get together.
Try another of my favorite dishes for summer: Low Carb Zoodles with Romesco Sauce. Big flavor, here!
As with anything you cook, quality ingredients are key. Three Bridges creates better-for-you meal solutions that use only the best, fresh ingredients.
In fact, Three Bridges notes that all the ingredients used in its products are the same as those found in Grandma's cupboard. They don't do artificial flavors, preservatives, antibiotics, or hormones. Perfect!
For this pasta salad, I combined some of the ingredients you'd find in a lobster roll — celery, mayo, and lemon — along with some colorful cherry tomatoes, a sprinkling of dill, and even cheese tortellini to make the dish more substantial.
As I was putting together the creamy lemon dressing, I couldn't help but sneak a few (too many?) tastes. I love using plain Greek yogurt when I can, so I used that along with mayonnaise as the base of the dressing, and added garlic, lemon, and dill.
This pasta salad dish was a big hit when I served it. It screams summer to me!
Three Bridges offers a wide variety of flavors of its fresh ravioli and tortellini and fresh-ready sauces. They're ideal for so many meal options.
Grab a coupon for $1.00 off one Three Bridges product. You're sure to find something you love! You can find their product in the refrigerated section at the grocery store.
Let me know how much you love this Lobster Ravioli Pasta Salad with Creamy Lemon Dressing! Try it before the summer comes to a close.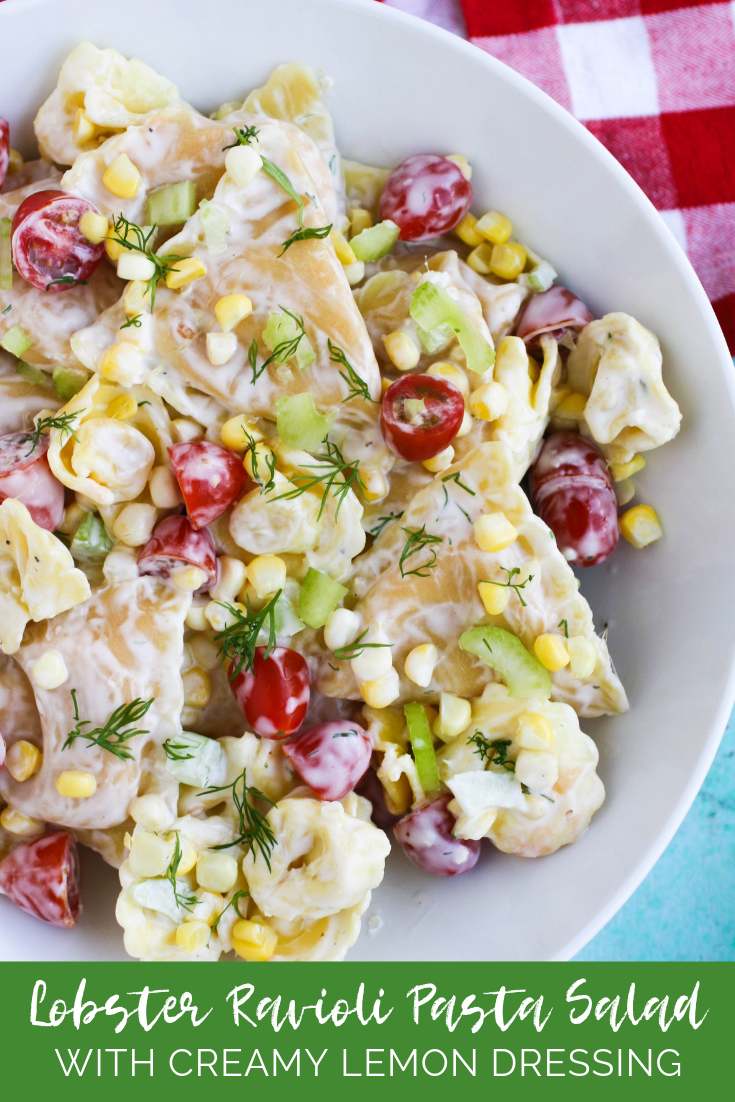 Patricia Conte/Grab a Plate
Lobster Ravioli Pasta Salad with Creamy Lemon Dressing
Ingredients
For the Dressing:

1/4 cup plain Greek yogurt
5 tablespoons mayonnaise
2-3 teaspoons lemon juice, to taste
Zest from 1/2 lemon
1 teaspoon fresh dill, chopped
1-2 garlic cloves
1/4 teaspoon salt
1/4 teaspoon ground black pepper

For the Pasta Salad:

2 (9-ounce) packages Three Bridges Lobster Ravioli
1 (9-ounce) package Three Bridges Triple Cheese Tortellini
1 large ear corn, cooked and kernels removed from the cob
1 celery stalk, diced
12-15 cherry tomatoes, cut into halves (more if desired)
Fresh dish, as garnish
Instructions
For the Dressing:

Mince the garlic cloves, then sprinkle the salt over them. Use the back of a knife to smash the cloves and garlic together, moving back and forth until a paste forms.
Combine all the ingredients in a bowl and stir to combine. Adjust seasoning to taste.
Refrigerate until ready to use.

For the Pasta Salad:

Add a sheet of aluminum foil to two baking pans. Lightly spray with non-stick cooking spray. Set aside.
Cook the pasta according to the package directions.
Use a slotted spoon to carefully remove the ravioli from the cooking pot. Allow the excess water to drain into back into the pan. Transfer the ravioli to the foil-lined baking pan.
Remove the tortellini and gently place in a bowl.
Place both the ravioli and tortellini in the refrigerator until cooled.
Add the ravioli and tortellini to a serving bowl. Add the corn, celery, and cherry tomatoes to the bowl.
Drizzle the dressing over the bowl. Gently toss the mixture to coat all the ingredients.
Garnish with additional dill and serve immediately, or add the mixture (without the dill) to the refrigerator until ready to serve. Toss lightly before serving and add the dill just prior to serving.
7.8.1.2
371
https://www.azgrabaplate.com/lobster-ravioli-pasta-salad-with-creamy-lemon-dressing/