Blueberry Italian Cream Soda drinks deliver a festive beverage with a fruity flavor, creamy texture, and pretty lavender hue. It's a winning choice for any warm weather gathering!
The temps are climbing here in Phoenix, and I know they've been crawling to higher digits around the country, too. If you haven't had an Italian cream soda before, what are you waiting for? The time is right to try a Blueberry Italian Cream Soda! They make a refreshing treat, for sure!
Blueberry Italian Cream Soda
Before you reach for a flavored syrup, this is your chance to make your own blueberry simple syrup – the base for your cream soda drinks. So easy!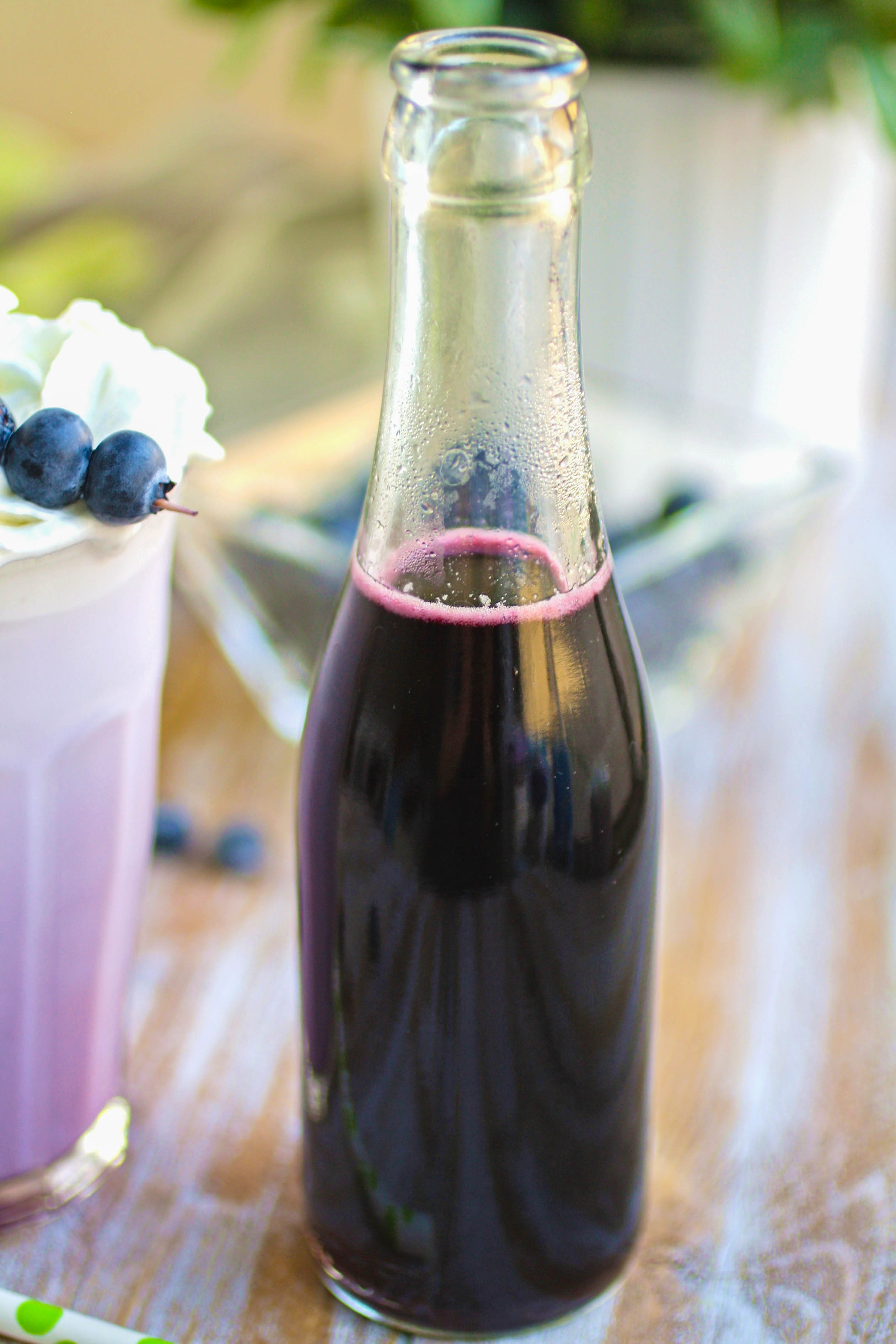 The ingredient list for these drinks is quite short, and it's easy to find everything at any store: grab your favorite, plain sparkling water, blueberries, half and half, sugar to make the simple syrup, lemon for its zest, and don't forget the whipped topping — that's all — or e tutto, as they say in Italian!
I used to think these pretty, fruity drinks were only available in restaurants and cool coffee shops, but au contraire (French because I'm not sure how to say it in Italian)!
I think these creamy drinks look like dessert in a glass with their deep blue hue and crown of fluffy whipped topping. What could be better than a beautiful, fresh, and easy-to-make drink that will impress at any gathering?
I love blueberries! What's not to love? They're considered a superfood, they're delicious, and they're so easy to find this time of year! I have so many fun recipes that include blueberries. Check out a few:
Blueberry-Banana Walnut Smoothie Bowls are a delight in the morning!
Sheet Pan Blueberry-Balsamic Glazed Salmon makes a delicious main dish!
Blueberry Mint Hand Pies are mini pies you can eat straight from your hands!
Try these Blueberry Italian Cream Soda drinks soon to celebrate the season! They make a fabulous treat for any occasion.
Patricia Conte/Grab a Plate
Yields Makes 4 drinks
Blueberry Italian Cream Soda
Ingredients
1 cup sugar
1 cup water
6 ounces blueberries
Zest of 1/2 small lemon
8 ounces half and half (about 2 ounces per drink)
24 ounces plain sparkling water (about 6 ounces per drink)
Whipped topping for garnish
Instructions
Add the sugar and water to a sauce pan over high heat. Stir to help dissolve the sugar, and bring the mixture to a boil.
Add the blueberries and lemon zest. Stir. Reduce the heat to simmer, stirring occasionally, for about 5 minutes. The blueberries should burst as the mixture simmers.
Remove from the heat and allow the mixture to cool. When cool, strain to separate the liquid from the blueberries (don't smash the blueberries as you strain the mixture). Save the blueberry remains for a smoothie or toss in some yogurt.
Fill a 12-ounce glass about halfway with ice cubes. Add 2 ounces of the blueberry syrup to the glass.
Add 6 ounces of club soda to the glass, then about 2 ounces of half and half.
Garnish with whipped topping and serve with a straw.
Stir and enjoy.
7.8.1.2
283
https://www.azgrabaplate.com/blueberry-italian-cream-soda/