Salmon is a go-to meal in my house during the summer months. To make salmon special — like a tropical getaway — you can't beat this recipe for Pineapple-Sriracha Glazed Salmon Rice Bowls.
My mind is suddenly clouded with visions of myself frolicking on a long, sandy beach with the cooling ocean breeze blowing through my hair. Unfortunately, the weather guy on TV always seems to be close enough to bring me back to reality with his caution of excessive heat warnings, much too early in the season.
As soon as summer approaches (on my thermometer), I desperately want to escape the desert heat of Phoenix — along with the other 4 million-or-so inhabitants. Since I'm not heading out on a tropical getaway anytime soon (California will be a welcome destination for a few weekends this summer), I decided to make a meal that seems tropical. This recipe for Pinapple-Sriracha Glazed Salmon Rice Bowls is filled with the taste of the tropics.
You'll find grilled pineapple, mango pieces, black rice, spinach, and a lip-licking, sweet-and-spicy marinade and side sauce in this recipe. I used pineapple juice and Sriracha sauce to make the marinade, and added soy sauce, brown sugar, ginger, and garlic to round things out.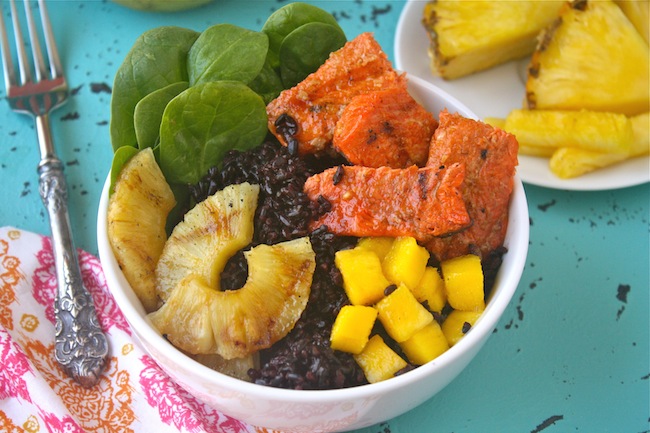 There are a few about this recipe that I really enjoy. I love using black rice for this dish. You can use any type of rice, but black rice seems exotic and out of the ordinary. I also love the grilled pineapple, which is so easy to prepare. The sugar in the fruit (along with the brown sugar) caramelizes and brings out even more flavor. Mostly, I love rice bowls, with all their ingredients and tasty sauce. This recipe for Pinapple-Sriracha Glazed Salmon Rice Bowls was an extraordinary meal that didn't disappoint.
Recipe for Pineapple-Sriracha Glazed Salmon Rice Bowls:
Serves 2