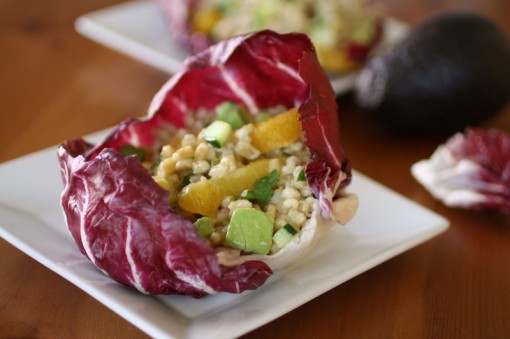 I'm not sure what I like best about Barley Salad in Radicchio Bowls with Champagne-Orange Vinaigrette – the taste or the presentation. The salad is made up of a lot of foods that I think work well together, like crunchy cucumber, chewy barley, sweet oranges and creamy avocados. Tossed together with a zesty vinaigrette dressing, you get a great, nutritious salad (if you didn't know, barley is cholesterol-free, high in fiber, low in fat and full of antioxidants and vitamins). The fun part (how often can you say that about salad?) is the edible bowl it's served in – a rounded, maroon-colored radicchio leaf.
Who doesn't love an edible bowl?
Raw radicchio looks like a small, reddish cabbage. It's a little bitter and biting on its own, so if you do end up eating your bowl, the dressing and salad are good complements to it. You'll have leftover radicchio since this recipe only calls for 4-6 of the outer-most rounded leaves, so be sure to save the rest for another dish. I read that when you cook radicchio, its sharpness is reduced. The next day, I decided to give it a try. I chopped up my leftovers, sautéed them with butter and shallots, and added them to frittata – delicious!
Barley Salad in Radicchio Bowls with Champagne-Orange Vinaigrette is a great salad to serve as a light lunch or for a festive brunch. Who doesn't love a colorful, edible bowl?
Thank you Bob's Red Mill
I put together this recipe because the kind people at Bob's Red Mill contacted me to ask if I would be interested in developing a recipe for them using couscous. I told them I was definitely interested. I really like their products and have been happy with all I've tried. We got our particulars arranged and everything was set.
The company delivered product for me to use in the recipe, but it turned out to be the wrong thing. No problem! I could easily run out and buy my own barley. Funny thing? All along I was supposed to use couscous, but I had barley in my head the whole time!
When I turned in my recipe I received a thank you and puzzled response from the company's rep – something like, thanks for the lovely recipe but what about the couscous? Perhaps I'll come up with a good recipe using couscous soon. Thank you, Bob's Red Mill, for your generosity and understanding!
Recipe for Barley Salad in Radicchio Bowls with Champagne-Orange Vinaigrette:
Serves 4-6