This recipe for Creamy Pasta with White Beans and Spinach has many things going for it, including the fact that it's easy to make. It's simple, yet elegant, and perfect for a festive gathering or dinner for the family. The sauce may be rich, but it's not overwhelming, and it works perfectly paired with hearty white beans, fresh spinach, and bits of roasted red pepper.
I was recently asked by retailer UncommonGoods to review an item from its wine glasses/gifts category (click here to see all there is to choose from). After doing a quick search on its site, I found the perfect glasses to fit my style: the Floral Wine Glasses. I was drawn to these glasses – small tumblers – because they reminded me of dinnertime growing up. During family dinners, my Italian family rarely drank from stemware, and usually poured homemade wine into short, juice-type glasses.
The UncommonGoods' Floral Wine Glasses are festive and unpretentious, decorated with simple flowers (a different design on each) with an Art Deco flair. The glasses come in a set of six, hold 6.5 ounces of your favorite wine, and are made in the USA. They arrived on my doorstep packaged in a cute cardboard carrier with a spot for each glass, and individually covered in protective bubble wrap.
These glasses were spot on sitting next to a bowl of Creamy Pasta with White Beans and Spinach. For me, they added a time-honored tradition to serving a glass of wine with a simple and delicious meal: not overly ornate, but welcoming and relaxed.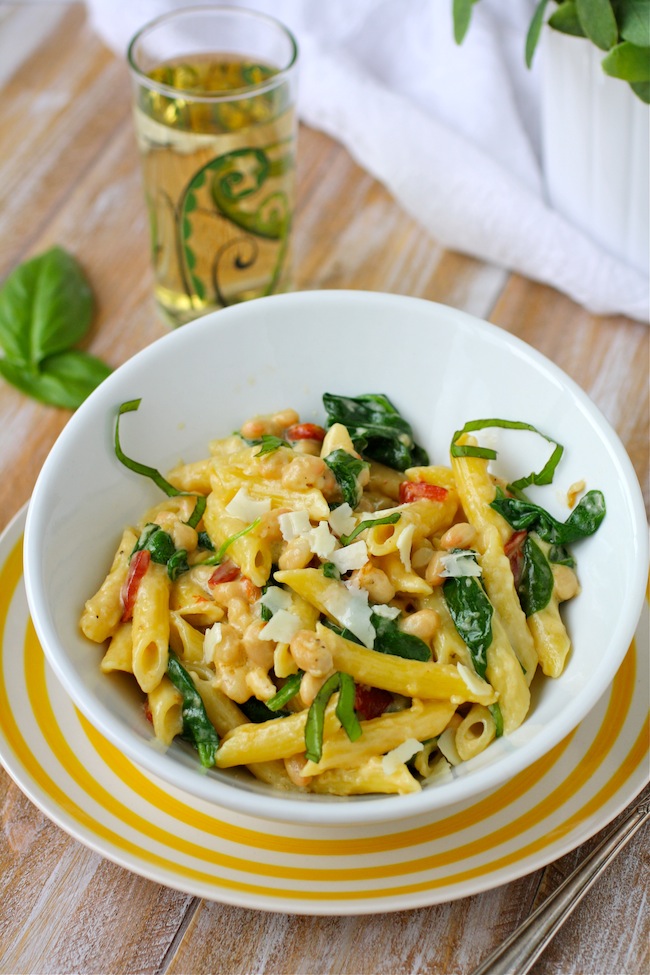 UncommonGoods has something for everyone's wine style, whether you're looking for glasses, cool accessories, or a unique gift. If you're not familiar with the company, you should check it out. With headquarters in Brooklyn, New York, it was founded in 1999. Half of the items sold by UncommonGoods are made by hand, and most of its products are made here in the USA. You'll definitely find something special on its site.
Pasta meals are more than mere red sauce. Creamy Pasta with White Beans and Spinach is the perfect example. No fuss, but definitely special.
Recipe for Creamy Pasta with White Beans and Spinach
Serves 4-6
Disclosure: This is a sponsored post for which I was compensated. All opinions expressed here are my own.