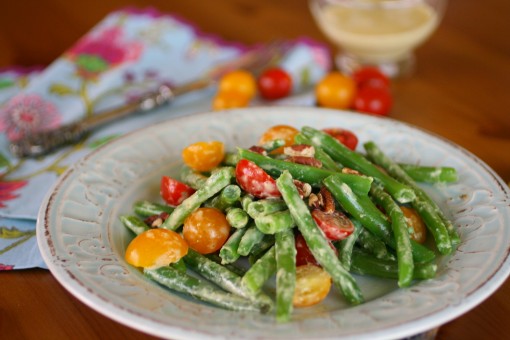 To me, Fresh Green Bean and Tomato Salad with Creamy Garlic Dressing tastes like summer on a plate. The snappy green beans and sweet, colorful tomatoes make this a healthy and tasty salad, and the tangy, garlicky dressing is its crowning glory!
Savor the season
It's nice to enjoy a fresh salad that doesn't always come in the form of a bowl of lettuce. The season's best veggies are only here for a short time, so take advantage of them with this simple, satisfying recipe.
It's a snap
My parents always had green beans growing in their garden during the summer, and I remember spending a lot of time sitting outside in a folding chair, trimming and snapping green beans by the bushelful. I loved the rhythmic process of prepping them when I was little, and I still do. There aren't quite as many beans to prep for this recipe, but I still thought it was fun!
Top it off
If you'd like to amp up this salad a bit, add some chunks of mozzarella or feta cheese and herbs. Toss in some tofu or grilled shrimp. You'll still keep the fresh flavors of the veggies even with adding more ingredients.
The dressing is really easy to make. I used spicy brown mustard but you might want to give Dijon mustard a try. A little of this dressing goes a long way, and it's perfect for garlic lovers!
Recipe for Fresh Green Bean and Tomato Salad with Creamy Garlic Dressing:
Serves 4