Served with Roasted Cauliflower with Orange Zest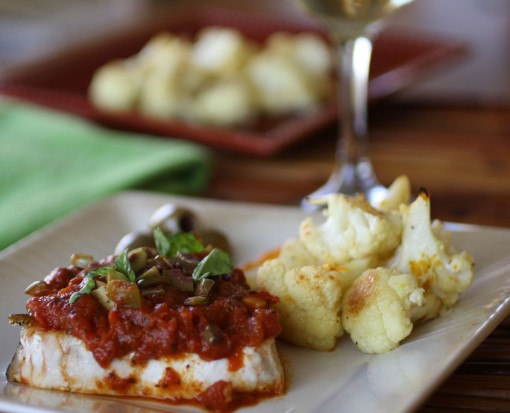 If you follow me on Twitter or Facebook (and if you don't, please do!), or you talk to my husband, my mom or any of my friends, you'll know that I recently had the opportunity to interview Chef Wolfgang Puck for SheKnows.com, the website where I'm a regular contributor. This recipe for baked halibut comes straight from the chef's mouth. The Roasted Cauliflower with Orange Zest recipe is mine.
Famous chefs can be friendly…and talkative
Of course I was thrilled for the chance to talk to Chef Puck – I'm guessing anyone who would read a food blog would be, too! He recently collaborated with Campbell's Soup Company on a new line of pasta sauce (I sampled them and they're very good) and I planned to ask him a few questions about it. During the arrangements for the call, I was told that he'd only have a short time to talk to me – nothing like a little (more) pressure!
Turns out, Chef Puck was friendly, funny and very talkative – so nice to discover! Our conversation kept rolling and we quickly surpassed the time constraints that I was originally given (if he wanted to keep talking, I wasn't going to stop him)! We talked about how cooking doesn't have to be complicated, time consuming or expensive, and Chef Puck gave me a few ideas of how to put together several meals pretty easily. So I decided to try one of his suggestions.
Recipe? What recipe?
Chef Puck didn't give exact measurements or cooking directions, but just tossed out some "a little of this" and "a little of that" instruction. My husband told me my mom would have explained the meal prep the same way – says something about her cooking, too, right?
The recipe that follows is pretty basic but makes a great main dish to your meal. Chef Puck said that, among other things, the pasta sauce could be used to help keep the fish moist while baking – especially helpful if you don't have a lot of experience cooking fish.
Side note: all four varieties of the Wolfgang Puck Pasta Sauce – Tomato Basil, Four Cheese, Creamy Vodka and Arrabbiata – are gluten free and 100% natural.
The meal, like Chef Puck described, was easy to put together, inexpensive and tasted great! Now if only I could call him whenever I had a question in the kitchen!
Recipe for Baked Halibut à la Wolfgang Puck Served with
Roasted Cauliflower with Orange Zest
Serves 2