It's time to break out the eggnog! Whether you make your own eggnog or buy a carton at the grocery store (I was excited to find soy milk eggnog recently), this recipe for Baked Eggnog Oatmeal with Apples and Walnuts will offer you a festive breakfast treat for family and friends for the holidays.
There are so many options when it comes to oatmeal (my first thought is cookies, but that's just me!). It is, of course, a hearty breakfast option that you can turn into a flavorful dish in so many ways. Think fresh fruit, dried fruit, spices, nuts, milk or yogurt, and your options definitely expand.
I usually add milk to my oatmeal, and since it's the holidays, I thought eggnog would be the perfect alternative to plain milk. This Baked Eggnog Oatmeal with Apple and Walnuts is so good, and I can't wait to serve it on Christmas morning!
The eggnog adds richness to the oatmeal and infuses it with fantastic flavor. The apples and walnuts add texture, and are the perfect match to the cinnamon, nutmeg, and brown sugar.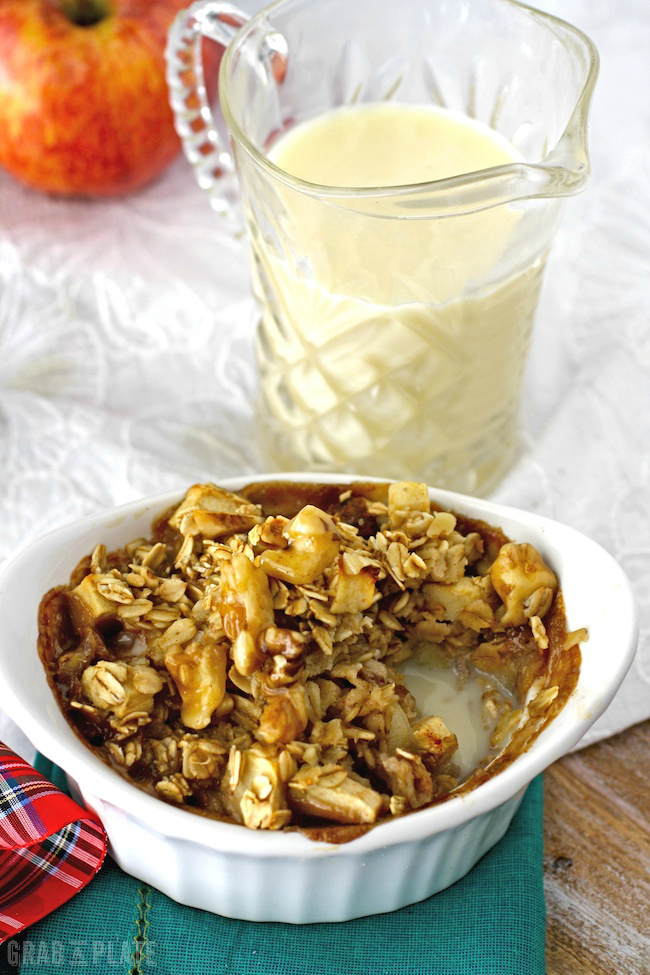 Let's not stop there. I think you'll love the scattering of glazed walnuts that top this warm and hearty treat. Serve with extra eggnog on the side and get ready to start your day off right.
Another oatmeal recipe perfect for holiday guests is this Oatmeal-Banana Bread with Apricots and Ricotta. It's delightful served at breakfast, or as a mid-day treat with a cup of tea.
Baked Eggnog Oatmeal with Apples and Walnuts
Serve 4