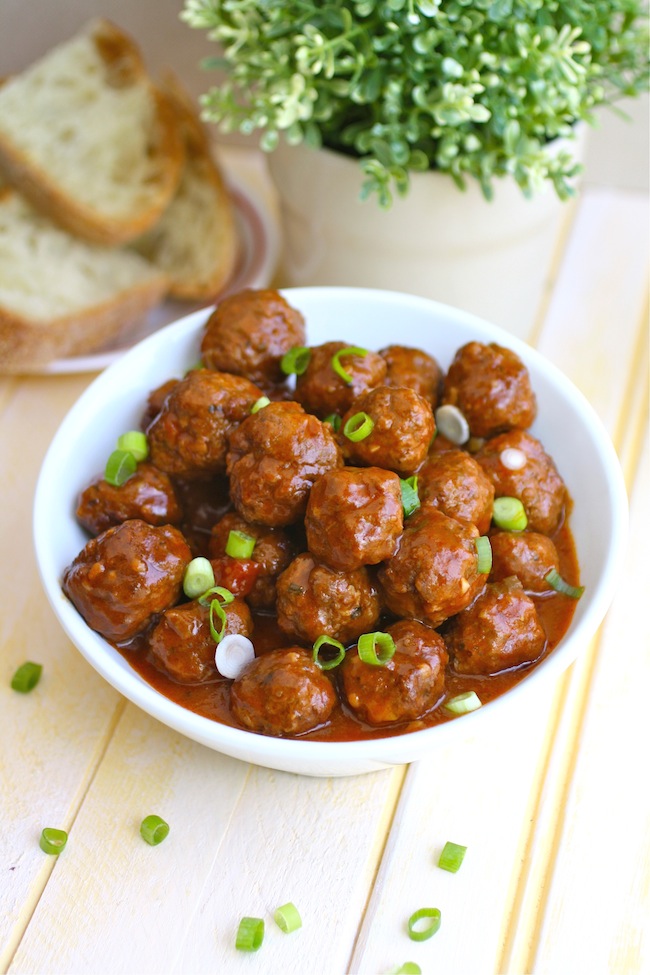 I'm crazy for meatballs, especially when my mom or my husband makes them. Of course no one can hold a candle to the meatballs my Grandma Teresa made, but theirs are a close second (and third).
Maybe you're asking yourself, "Why is this Italian-American food blogger giving us a recipe for Spanish-style Meatballs?" The answer is simple: they're delicious and just a little different from anything-but-standard Italian meatballs.
If you like Italian-style meatballs, I bet you'll LOVE my recipe for Mozzarella-Stuffed Meatball Sliders!
These Spanish-style Meatballs just the right size (about two bites) for a hearty appetizer for a party. The added chorizo brings some spice to the mix, and the cumin, paprika, and cherry preserves help round out the flavor of these meatballs.
My mom taught my husband how to make her Italian meatballs and he basically has it down to a T. It's pretty amazing (and convenient since my mom doesn't live nearby), and I have appointed him as Meatball Maker in our house.
My husband made these meatballs last week (I helped) to take to a tapas-themed birthday party. I was inspired by a recipe I found at Saveur for Tapas-style Meatballs, or Albóndigas en Salsa, so we put our own spin on them and headed out to the festivities. These Spanish-style Meatballs were so good, we made them again this week.
To keep these in the appetizer category, we made the meatballs on the smaller size. Pair them with extra sauce and slices of crunchy-crusted, artisan bread and you'll be set.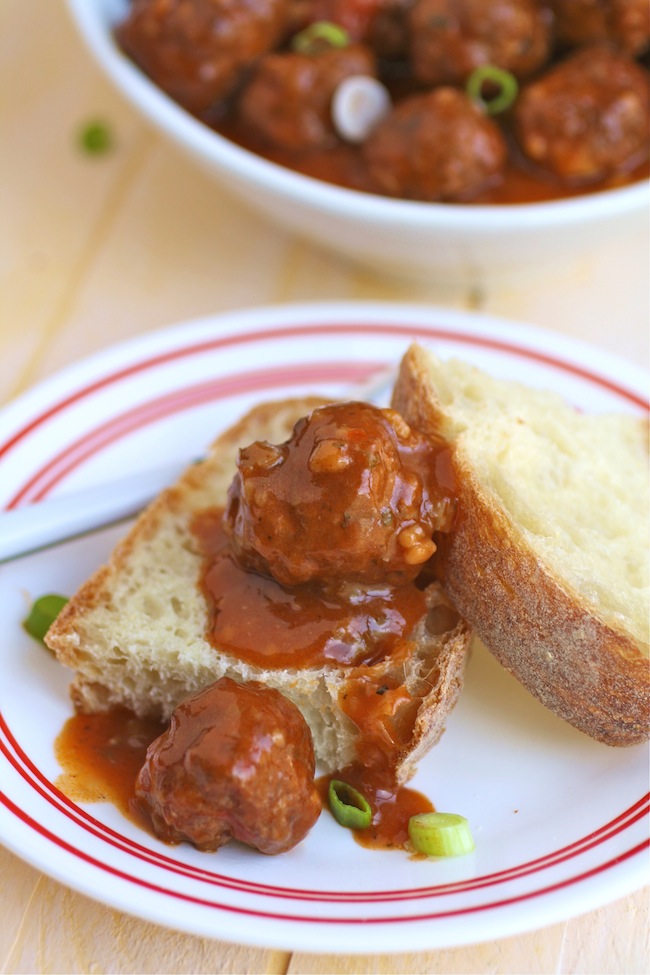 Spanish-style Meatballs are easy to make and they're perfect for a party. You can easily double this recipe to feed a bigger crowd.
Recipe for Spanish-style Meatballs
Adapted from Saveur
Serves 6
---
INGREDIENTS
For the meatballs
1/2 pound ground beef
1/2 pound ground chorizo
4 garlic cloves, minced, divided
4 green onions, ends trimmed, cut into small pieces
1 tablespoon fresh parsley, chopped
1/2 teaspoon ground cumin
1/2 teaspoon paprika
1/4 teaspoon salt
1/4 teaspoon ground black pepper
1 egg
2 tablespoons Parmesan cheese
1/4 cup breadcrumbs
1/2 tablespoon olive oil
For the sauce
1 tablespoon olive oil
2 garlic cloves, minced
2 green onions, ends trimmed, cut into small pieces
1 cup red wine
1 cup beef broth
1, 15-ounce can tomato sauce
1/2 teaspoon salt
1/4 teaspoon cumin
1/2 teaspoon paprika
1/4 teaspoon ground black pepper
1/4 teaspoon red pepper flakes
1-1/2 tablespoons cherry preserves
2 tablespoons flour
1 bay leaf
---
INSTRUCTIONS
For the meatballs
Line a baking sheet with waxed paper and set it aside.
Add the chorizo and beef to a large bowl. Use a wooden spoon to break up the meat to help mix it together.
Add the garlic, onions, and parsley to the mixture along with the cumin, paprika, salt, and black pepper. Use the spoon to mix all the ingredients together as best as possible. If you prefer, use your hands to mix the ingredients together.
Add the egg and Parmesan cheese to the mixture and stir to combine.
Add the breadcrumbs and stir to incorporate. This will help to absorb some of the liquid in the mixture.
Pinch off 2-inch pieces from the mixture and roll each into individual meatballs.
Place the meatballs on the lined baking sheet, then refrigerate for about 30 minutes.
Add the olive oil to a Dutch oven over medium heat. When hot, add the meatballs (you may need to work in batches) to brown them, stirring to get all sides, for about 4 minutes.
Use a slotted spoon to remove the meatballs from the Dutch oven, then wipe it clean.
For the sauce
Add oil to the pan over medium heat. When hot, add the garlic and onion. Cook for a minute or so.
Add the wine, beef broth, and tomato sauce. Stir and cook for a minute or so, then add the salt, cumin, paprika, and ground black pepper to the mixture. Sir and cook for a few minutes.
Add about 1/4 cup of the liquid to a small bowl. Whisk the flour into the bowl until it is smooth.
Transfer the flour mixture to the sauce, whisking to incorporate it. Add the red pepper flakes, cherry preserves, and bay leaf.
Lower the heat to simmer. Add the meatballs and cook for about 20 minutes.
Remove and discard the bay leaf. Add the sauce and the meatballs to a serving bowl and serve warm.
Serves 6