I love to make this dish for dinner, mostly because I love the leftovers even more! I love cold, leftover meatloaf – I mean rice and lentil loaf – better than the first serving of it!
Most everyone has an opinion about meatloaf. Some love its homey comfort made from their mom's recipe. Some think of it as a heavy-duty boring blast from the past. Some would never eat it. Enter rice and lentil loaf with mass appeal!
Whether you're a meat eater, vegetarian or trying to cut meat from your meals more often (think Meatless Monday), this loaf is a great option for you to try.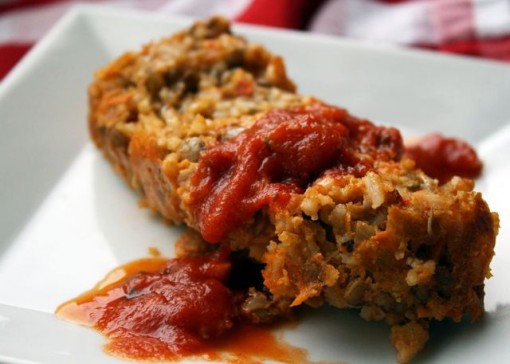 Whatever your opinion of the classic dish, this recipe is meatloaf-like enough for fans, but different enough for meatloaf foes. The addition of rice, lentils and vegetables makes it a healthy dish, and although it has almost the same texture as meatloaf, it gives you the chance to try something a little out-of-the ordinary.
Best of all, the leftovers are amazing, cold and straight from the fridge!
Recipe for Rice and Lentil Loaf:
Serves 6-8 people
---
INGREDIENTS
3 cups of water
3/4 cup o uncooked lentils, sorted & rinsed
1 cup of uncooked regular rice
1/2 cup of finely chopped onion
3 cloves garlic, minced
1/2 cup of bread crumbs
1/2 cup of shredded carrot
1/4 cup mushrooms, diced
2 eggs, slightly beaten
1-2 handfuls of Parmesan cheese
1 teaspoon salt
1/2 teaspoon ground black pepper
1/2 teaspoon red pepper flakes
1/2 teaspoon dried parsley
1, 14-ounce jar of pasta sauce
---
INSTRUCTIONS
Preheat your oven to 350 degrees F.  In a medium saucepan, combine the water and lentils and bring it to a boil. Reduce the heat, cover and simmer for about 5 minutes.
Add the rice, onion, salt and mix together well. Cover the pan and simmer for about 15-18 minutes until the liquid is absorbed and the lentils and rice are tender.
Remove the pan from the heat and allow it cool for about 10 minutes. Add in the remaining seasonings and mix together well.
Grease an 8x4-inch glass loaf pan (use a non-metallic pan -- a casserole dish if you need to). Stir ½ cup of the pasta sauce and the remaining ingredients into the lentil mixture. Mash it up a bit as you mix it. Press it firmly into your greased pan.
Bake the loaf for 40-45 minutes or until the top of the loaf is golden. Remove from the oven and cool for 10 minutes.
Heat up the remaining pasta sauce and spoon it on top of each slice.
Serves 6-8 people