Sweet, crunchy, salty — descriptors of a fab chocolate goodie. Chocolate Bark with Pistachios and Sea Salt could not be easier to make, it's tasty and a little addictive, and it makes a nice holiday gift (especially when packaged in a colorful tin) or party treat.
The holidays are usually here before you're fully ready, at least that's what seems to happen to me. I'm good about getting the decorations and gifts ready, but there are always a few items I need at crunch time, whether gift or goodie.
If you ever find yourself in that boat, my suggestion is to get to the store pronto (it's only going to get worse), pick up a few festive tins, some colored plastic wrap or waxed paper, and the rest of the ingredients to make this super-simple chocolate bark.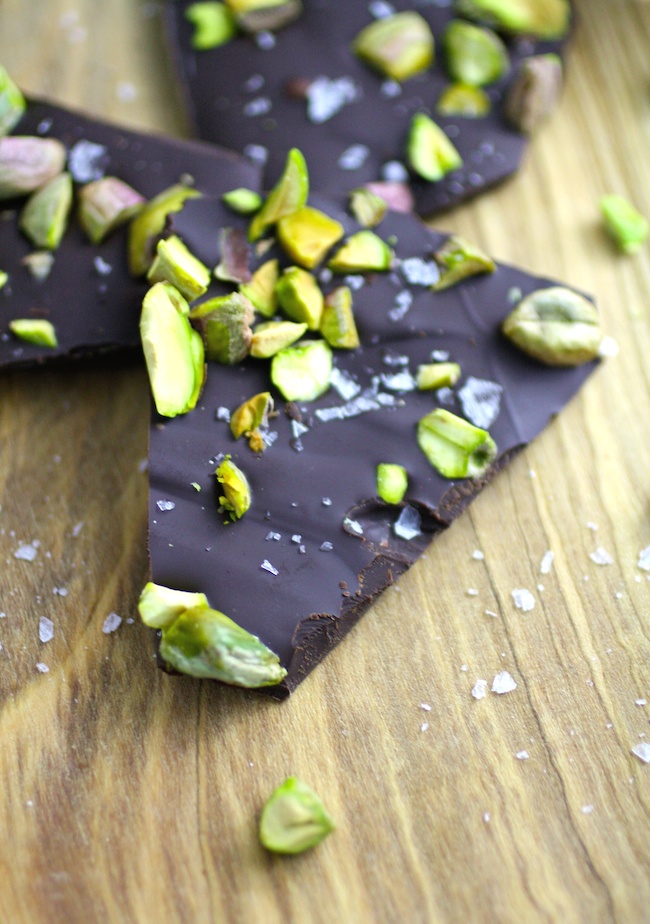 This Chocolate Bark with Pistachios and Sea Salt is amazing. And amazingly simple to make. For candy bark, the possibilities are endless! Check out some options below if you're looking to expand a bit. If going with one of the below options, I recommend using about 1/3 cup of the fruit or marshmallows.
Options:
Orange oil
Peppermint oil
Grated orange zest
Crushed peppermint candy to the top instead of sea salt
Mini marshmallows
Toasted cocoanut flakes
Dried fruit like cranberries, cherries or blueberries
Nuts like almonds, pecans, cashews, pine nuts or peanuts
Use white chocolate, or half white and half semisweet chocolate
Simple, quick and delicious. This is a gluten-free treat, too (just be sure to check the label of the chocolate you're using or any of the other ingredients). Here is to a happy holiday season!
Recipe for Chocolate Bark with Pistachios and Sea Salt:
Makes about 2 dozen pieces
---
INGREDIENTS
1, 10-ounce bag of bittersweet chocolate chips or chocolate pieces, broken (I used Ghirardelli 60% Cacao Bittersweet Chocolate Chips, which are also gluten-free)
1/3 cup of shelled pistachios, coarsely chopped
Sea salt to sprinkle over the top
---
INSTRUCTIONS
Add aluminum foil to the bottom and sides of a 9x9-inch pan. Make sure some of the foil hangs over the edges of the pan and set it aside.
Melt the chocolate in the microwave in 10-15 seconds-increments (or in a double boiler), stirring after each round, until melted.
If you're using dried fruit, add it at this point and stir it throughout the chocolate.
Pour the chocolate mixture into the 9x9-inch pan so it's about 1/4-inch thick. Spread it evenly across the pan with a spatula. Sprinkle the pistachios over the top.
Refrigerate for about an hour, or until the chocolate hardens. About halfway through refrigeration, remove and sprinkle with the sea salt. Place back in the refrigerator. Once the chocolate is hard, remove from the refrigerator and gently lift it from the pan using the edges of the aluminum foil.
Break the chocolate into3-4-inch pieces. Store it in a tightly sealed container. You can keep it in the refrigerator for several weeks, or out of the refrigerator for about a week.
If you're giving the bark as a gift, wrap it in the cellophane or waxed paper and add it to one of your colorful tins.
Makes about 2 dozen pieces