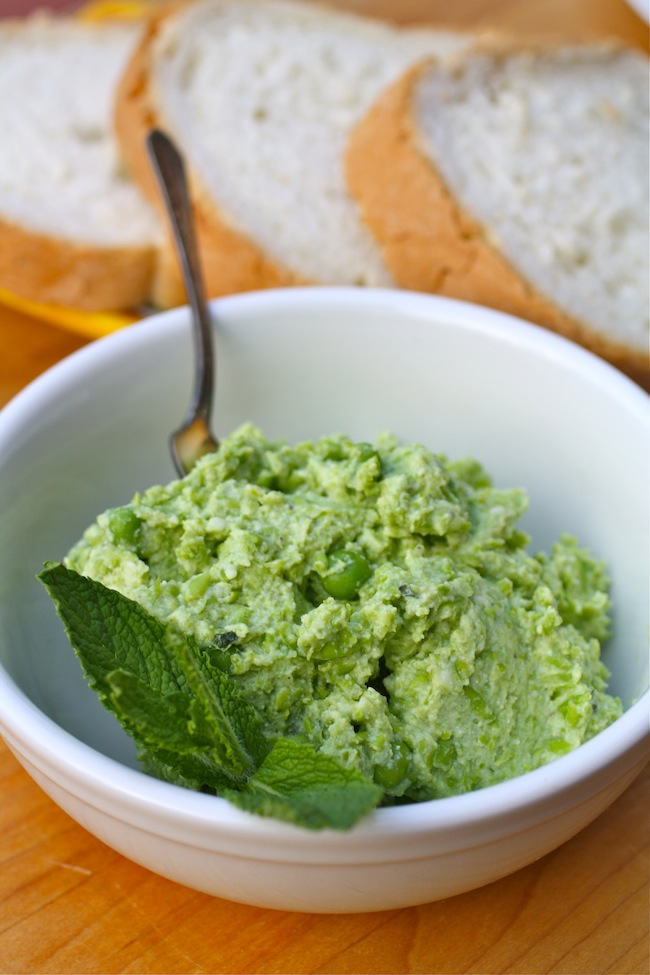 Like my niece says, Pea and Ricotta Spread "tastes like the garden." I love this spread because, while cheesy, it's not goopy or heavy, and the green peas and mint add a vibrant, springtime freshness.
I served Pea and Ricotta spread on Easter along with slices of my mom's homemade bread. The color and garden-like flavors of the spread scream spring, and after a dreary winter, what could be better?
Mint and peas is a classic pairing, but if you're not a fan of mint, try making the spread with fresh basil, rosemary, or thyme (I think lemon thyme would be excellent with this spread). I'm a garlic freak, so I think it's perfectly acceptable to add a little to this spread, but I recommend using light touch for this one.
If you're set to serve an appetizer this spring, look no further than Pea and Ricotta Spread. I love it mounded on slices of crusty bread, but crackers work well, too. Don't forget fresh veggies that you can dip into it. This is a simple, springtime appetizer that brings the flavors of the garden indoors.
Recipe for Pea and Ricotta Spread
Yields about 3 cups
---
INGREDIENTS
1 (10-ounce) package frozen peas, thawed (or use fresh shelled peas)
1-1/2 cups ricotta cheese (you can add a bit more if you'd like)
1 garlic clove
Zest of 1/2 lemon
1 tablespoon olive oil
1/2 teaspoon salt
1/4 teaspoon ground black pepper
2-3 fresh mint leaves, depending on your taste
---
INSTRUCTIONS
Add all the ingredients to a food processor and blend so the mixture is combined, but slightly chunky.
Taste and adjust the seasoning as needed.
Serve as a spread for fresh crusty bread, toasted baguette slices, crackers, or with veggies.
Yields about 3 cups