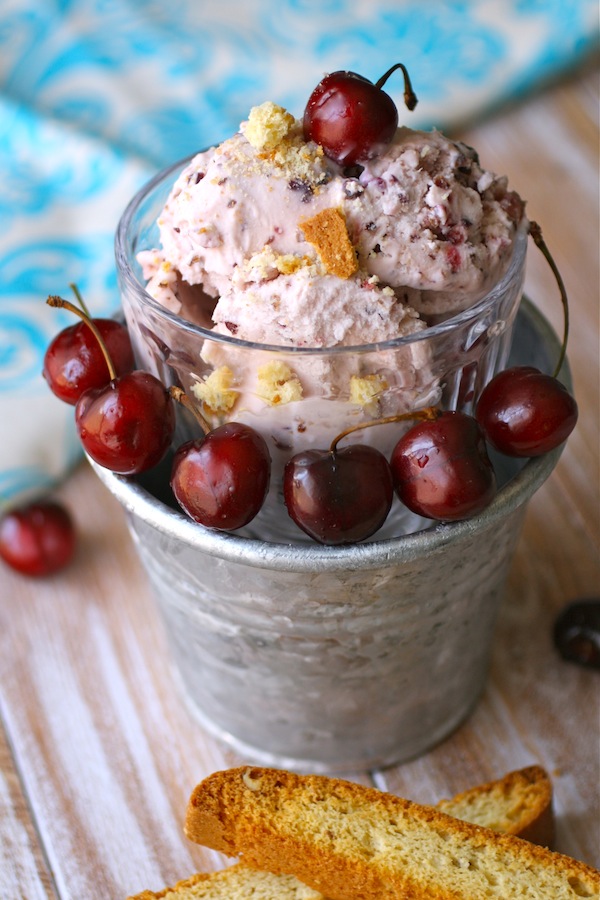 I eat ice cream all year, no matter what the season — it just goes down so darn easy. With all the fresh fruit available during the spring and summer months, why not use some to make a frozen treat like Cherry-almond Ricotta Ice Cream?
I've seen several ricotta ice cream recipes pop up lately, and I was dying to try one out for myself. I wasn't yet sure what fruit I wanted to include in this recipe, and I had picked up several options. Roaming through the produce aisles I came across mounds of beautiful claret cherries. How could I resist? I scooped up a bag full and knew they would be put to good use.
Coincidence seemed to nudge me to use the cherries for this ice cream. My mom is in Italy right now, and she decided to FaceTime me the other day. It's always first thing in the morning for me when she calls, and there are always at least four of my cousins with her.
I love to visit with everyone, but first thing in the morning is not my finest hour. I'm usually in need of more caffeine (speaking of which, my cousin Alessandro makes the best lattes at his family's pastry shop!). My hair is usually crazy. I'm not wearing a stitch of makeup. You get the picture.
But during this particular call, my mom was on her own and decided to show me all the beautiful fruit she had on hand, which included cherries. I started to connect some dots. Italy. Ice cream. Cherries. Ricotta cheese. And that's how Cherry-almond Ricotta Ice Cream came to be!


The almond flavor is a tried-and-true combo with cherries. Because I love chocolate with pretty much everything, I also added coarsely chopped chocolate chips to the mix, (an optional ingredient), then topped off the ice cream with crumbles of almond biscotti. The texture of this treat wasn't super-smooth like some other ice creams, but it has great flavor. To me, this is a very Italian-inspired ice cream.
Cherry-almond Ricotta Ice Cream
Serves 4-6
---
INGREDIENTS
2 cups ricotta cheese
1 cup pitted cherries
6 ounces heavy cream
2/3 cup sugar
1/2 teaspoon almond extract
Pinch salt
Optional: 1/4 cup chocolate chips, chopped
---
INSTRUCTIONS
Before starting, be sure your ice cream maker freezer bowl has been in the freezer for the suggested amount of time based on the manufacturer's instructions.
Add the ricotta cheese, sugar, salt, heavy cream, almond extract, and the pitted cherries to a food processor.
Blend until combined and the cherries are broken down.
Freeze in the ice cream maker for about 20 minutes (follow the instructions for your particular ice cream maker).
If you're using chocolate chips, add them during the final 3-5 minutes of freezing.
The ice cream will be thick, but somewhat soft. If you prefer a firmer consistency, freeze it in an airtight container for an additional hour or so.
Serves 4-6