Quick! What's for dinner? When you don't have time to think about it, make Flatbread Pizza with Beet Hummus and Roasted Veggies. You'll love the color, flavor, and how easy it is to get a great meal together.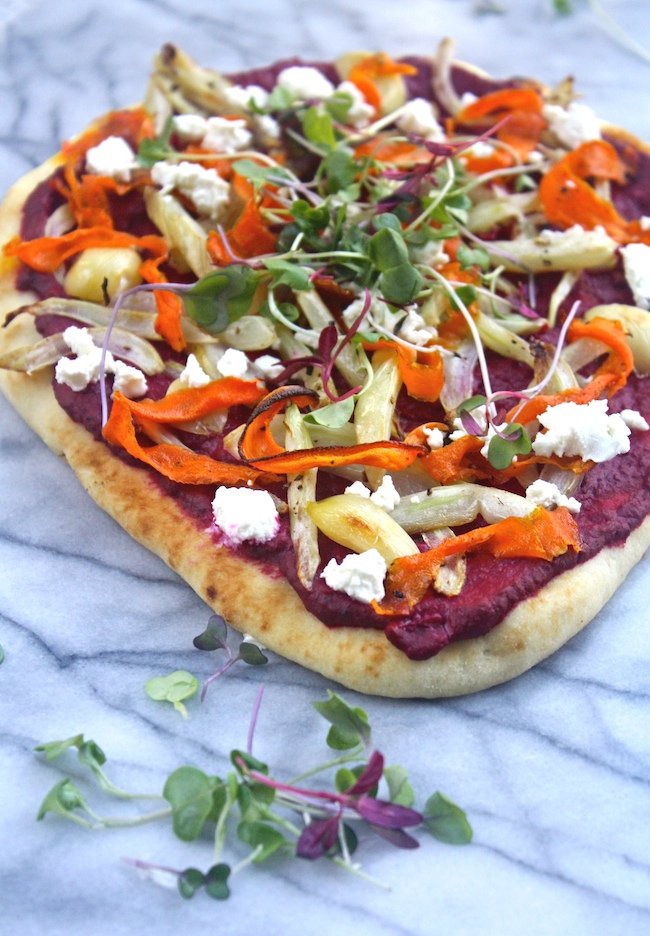 If you don't feel like ordering the same old pizza, this is the one for you! I have to admit, this recipe for Flatbread Pizza with Beet Hummus and Roasted Veggies isn't a big, bold orchestration of cooking. It's more like arranging several ingredients to make a meal. But who doesn't need that once (or twice) in a while? If you're like me, you welcome tasty, shortcut meal ideas into your world.
If you have extra time and feel like getting a little more hands on, make my Roasted Beet Hummus for the topping. It's super easy to make, and sooo worth the slight mess you'll likely make putting it together. However, if you had a crazy day like I did, pick up a container of beet hummus instead (I found mine at Trader Joe's).
I roasted fennel, carrot ribbons, and garlic as the topping to these pizzas. Nice and simple, but lots of flavor. For the final touch, I crumbled goat cheese over the tops of the pizzas and garnished with pretty microgreens. It only takes about 15 minutes to roast the vegetables, so in a total of 20-30 minutes, you'll have yourself a delicious, colorful, healthy meal.
It's that simple. And delicious.
If you're looking for another way to serve fennel try one of these recipes:
Sicilian Fennel and Orange Salad
Tuna and Egg Salad with Fennel
Recipe for Flatbread Pizza with Beet Hummus and Roasted Veggies
Serves 4