I can only imagine the recipes I could post if my brothers and sisters lived near me (to help)! I talk with them a lot about what would make a good recipe. This recipe for Bacon-Sweet Potato Tots with Maple-Mustard Dip was the result of a phone conversation with my brother, John. So good!
We seem to end up chatting on the phone with each other while at least one of us is cooking. Last week it was John who was whipping something up during our call. I think he might have been using the last of whatever he had picked from his garden.
For some reason we started talking about sweet potatoes, and with a little back and forth, we came up with the general idea for this recipe for Bacon-Sweet Potato Tots with Maple-Mustard Dip.
This is a great side dish or appetizer, best served warm. I think these would be fun to serve on Thanksgiving. Since there is a little bit of a process involved in shaping these tots, why not enlist the help of, oh, say a brother or sister in town for Thanksgiving? Makes sense to me!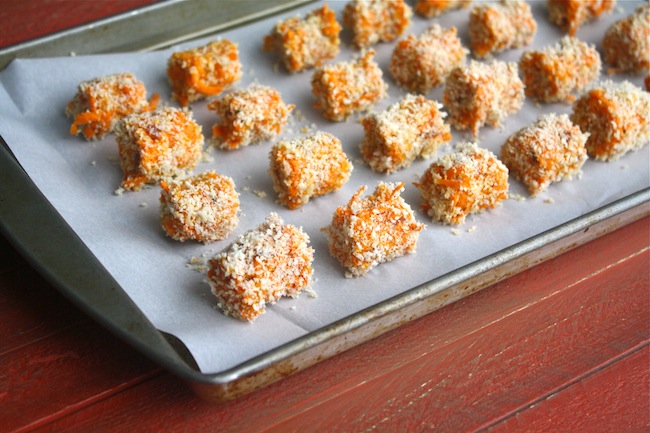 The dip for the tots is super-simple to make. Since maple syrup pairs nicely with sweet potatoes, I made a maple-mustard dip – a take on honey-mustard dip. I mixed brown mustard (Stadium Mustard, to be exact – it's an Ohio thing!) with the maple syrup, and voila!
Since sweet potatoes are pretty much everywhere to be found this time of year, I hope you try making a batch of Bacon-Sweet Potato Tots with Maple-Mustard Dip. I think you'll like them!

Recipe for Bacon-Sweet Potato Tots with Maple-Mustard Dip
Serves 6-8
---
INGREDIENTS
2 large sweet potatoes, washed, dried and pierced all around with a fork
6 strips of bacon, cooked until crisp, then chopped into small pieces
2 egg whites
1-1/2 teaspoons chopped fresh thyme
1/4 teaspoon ground black pepper
1-1/2 cups Panko breadcrumbs
1/2 teaspoon salt
1/4 teaspoon paprika
1/4 cup brown mustard
3 tablespoons maple syrup
Parchment paper
Nonstick cooking spray
---
INSTRUCTIONS
Preheat your oven to 400 degrees F. Line two baking sheets with parchment paper and set aside.
Place the pierced potatoes in a shallow, microwave-safe dish and cook in the microwave for 5 minutes. Turn the potatoes over and cook for another 5 minutes.
Remove from the microwave and allow the potatoes to cool.
Add the breadcrumbs to a shallow dish along with the salt and paprika. Toss to mix and set aside.
When the potatoes have cooled to the touch, peel them and use a box grater to shred them (use the largest holes).
Spread out the shredded potatoes on a cutting board, and use a few paper towels to blot up some of the extra moisture (you may need to do this in a few batches).
Add the shredded potato to a large mixing bowl. Add the chopped bacon, egg whites, thyme, and black pepper. Toss to mix.
Place the lined baking sheets and the bowl with breadcrumbs near the bowl with the potato mixture.
Use a teaspoon to scoop out the mixture, one portion at a time. Use your hands to tightly squeeze the mixture together, then form it into the shape of a tot, or a 1-1/2-inch long log.
Roll the tot in the breadcrumb mixture. You may want to reform the tot, pressing the breadcrumbs into the tot, and then roll it in the breadcrumbs a second time. Place the tots on the baking sheets, just so they are not touching.
Continue this process until all the mixture is used.
Generously spray the tops of the tots with the nonstick cooking spray.
Bake for 10 minutes, flip the tots, spray the other side with the nonstick cooking spray, and bake for another 8-10 minutes, or until golden.
As the tots cook, mix the mustard and maple syrup together for the dipping sauce.
Serve the tots hot with the sauce on the side.
Serves 6-8