This ain't your standard grilled cheese sandwich. Grilled brie, fig jam and dandelion greens sandwiches are more distinctive than the average grilled cheese sandwich that you'd serve with tomato soup.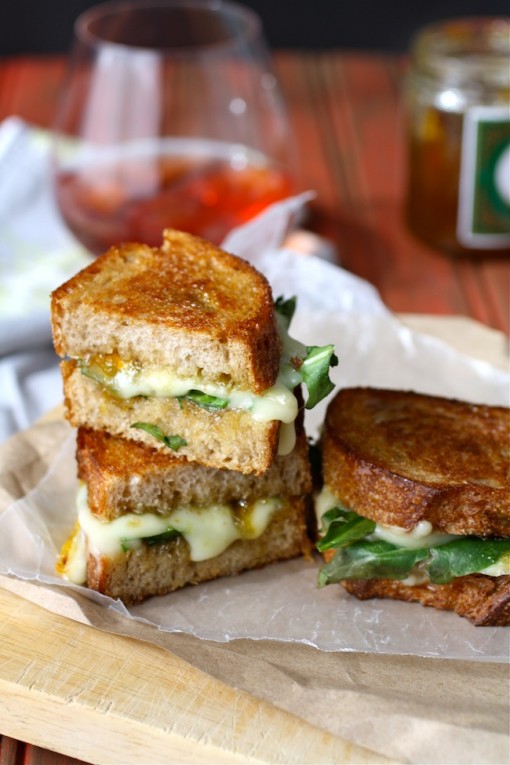 Don't get me wrong. I love a standard grilled cheese: the soft-and-slightly crispy bread, buttered and golden. The gooey, golden cheese oozing out from the sides. It's especially great when your fridge is all but empty and you're hungry. But when you want something a little different, something that reminds you of all that's great about standard fare, but that provides you with a touch of simple deliciousness, this is the sandwich to sink your teeth into.
The brie cheese is here for its mellowness and "cream-ability." The fig jam is sweet, in a jam way. In a good way. And there we have the perfect complement to the bitter dandelion greens. Add your favorite rustic bread to the mix and you're in for a doozy of a meal. I ate mine with a nice glass of wine.
Growing up my parents ate dandelion greens whenever they were available (spring, early fall). I always hated them as a kid. "They're bitter!" I'd yelp when served a plate as salad. Who wants to eat a bitter salad? Besides, I thought, "they're weeds!" But I usually ate them, quickly, to get it over with. I often thought my parents were weird for some of the food they ate, but now I've learned to appreciate so much of what they grew and prepared.
My parents might think these grilled brie, fig jam and dandelion greens sandwiches are weird. Maybe they are, but they're delicious, so you won't have to eat them quickly to "get it over with!"
For another recipe using dandelion greens, try my recipe for Bucatini with Wilted Dandelion Greens and Anchovy Sauce >>
Recipe for Grilled brie, fig jam and dandelion greens sandwiches
Serves 2
Ingredients
4 ounces brie cheese, cut into thin slices (best done when the cheese is cold)
4 teaspoons softened butter
4 slices rustic, Italian-style bread, cut about 1/2-inch-thick
4 tablespoons fig jam
4 ounces dandelion greens, cleaned, dried and end trimmed
Directions
Divide the butter evenly and spread over each slice of bread on one side.
Flip the bread over (butter side down) onto a clean cutting board. Spread 1 tablespoon of the fig jam over each slice. Set aside 2 of the slices of bread.
On the remaining bread add 1 ounce of brie to each slice (on the jam side) followed by 2 ounces of the dandelion greens over each.
Add 1 more ounce of brie to both, and top with the reserved slices of bread (jam side down).
Preheat a griddle (or large skillet) to medium-high heat.
Grill the sandwiches for 2-3 minutes on one side (or until the bread turns golden and the cheese softens), then flip and continue cooking for another 1-2 minutes until golden.
Remove the sandwiches from the griddle and cut each sandwich in half.
Serve warm.
Serves 2